Glenn Beck's Next Bestseller Will Veer Into Non-Political, Self-Help Territory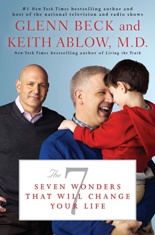 Glenn Beck's reign as arguably the most successful media figure author has continued with his recent book Broke.
While Broke broke his streak of #1s on the New York Times Bestsellers List, ending it at an unprecedented six in a row (and coming in #2 behind Keith Richards), he'll have another shot with a new book in January.
"The 7: Seven Wonders That Will Change Your Life" is co-authored with Dr. Keith Ablow, a Fox News (and sometimes Glenn Beck show) contributor, and will be released January 4. It is about as apolitical as Beck has ever been – and that might even include his children's books. This is self-help, at its purest form (hence the co-author). Here's the description from Amazon:
Radio and television host Glenn Beck has experienced the rollercoaster of life like few others. From the suicide of his mother when he was just thirteen, to his eventual alcoholism, depression, divorce, unemployment, and health scares—Glenn has weathered life's darkest storms.

Any one of those struggles could've ruined him, yet Glenn was able to keep moving forward. He saw past the darkness into the light; past his grief and addictions and into what his life could be.

The process of finding happiness through personal redemption was not easy, but it left Glenn with a blueprint for how to confront future adversity. Glenn is living proof that these steps—he calls them wonders—don't just work on paper. They helped transform his life and can they can help to transform yours as well.
Gawker's Richard Lawson had some fun with the book's cover yesterday, writing, "Glenn Beck's New Book Cover Is About Two Men Raising a Baby Together."
But a source with knowledge of the book tells Mediaite "the cover captures the fact that true happiness is about family and spending time with your kids and that it's important to have people who can stand with you (represented by Dr. Ablow) to act as a support structure."
Also, Gawker is sort of half-right about one thing – we hear the boy Beck is holding is in fact his son.
—–
» Follow Steve Krakauer on Twitter
Have a tip we should know? tips@mediaite.com