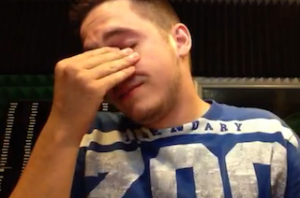 Currently at #13 on the Billboard Hot 100 chart, 25 weeks after it was released, Macklemore and Ryan Lewis' "Same Love
" is undoubtedly one of the most popular songs of 2013. It also happens to advocate for marriage equality. One listener of Indiana's Artimis Radio on 92.9 FM, who would only identify himself as "Craig," was so incensed that the station was playing the song that he repeatedly called the station until DJ Artimis agreed to speak to him on-air about his objections.
Craig immediately began laying into the station for "promoting your homosexuals and your gay tendencies." Asked directly why he doesn't like the song, the man said it's because, "I'm a Christian, I'm a God-fearing man and I know those gays don't have no place in America."
Thing got even more heated when the caller revealed that it was his son who was trying to expose him to the song, which features a positive message of openness and inclusion. "Your son is obviously trying to get you out of the lifestyle in which you live," Artimis suggested, "of hating people because of who they love."
"He doesn't know no better," the caller responded. "He's not old enough to understand."
"Promise me that you'll never listen to this station again," Artimis said, happy to lose this one listener, "and that you'll never call in again… The problem is, sir, that you're living in the past. We live in 21st century. America is the land of the free and you should be able to love whoever you want."
"And I need to be free of gays," Craig replied, clearly not getting the message. From there, the two men agreed to disagree and the rest is history.
Watch video below, via Facebook:
[h/t Huffington Post]
[photo via screengrab]
— —
>> Follow Matt Wilstein (@TheMattWilstein) on Twitter
Have a tip we should know? tips@mediaite.com