Public Policy Polling Battles Nate Silver on Twitter Over Poll 'Suppression'
Public Policy Polling, a left-leaning polling firm, revealed on Wednesday that it had not published a poll conducted last week that showed two Colorado Democrats losing their recall elections. PPP said its numbers were so far from expectations, given Colorado's previous voting history, that the firm thought it had gotten something wrong in the poll, though it now realizes the numbers had been an accurate prediction of State Senator Angela Giron's recall.
Tom Jensen of the firm wrote Wednesday:
We did a poll last weekend in Colorado Senate District 3 and found that voters intended to recall Angela Giron by a 12 point margin, 54/42. In a district that Barack Obama won by almost 20 points I figured there was no way that could be right and made a rare decision not to release the poll. It turns out we should have had more faith in our numbers becaue she was indeed recalled by 12 points.
After taking a lot of "abuse" over the decision, PPP posted a significantly more detailed explanation:
As a private polling company, the vast majority of the polling we do is not released to the public. We do 1 or 2 public polls a week across the country, that we let you vote to pick on our website. We announce what states we'll be polling and take question suggestions, and we've never not released one of those polls that was intended for public consumption.

Most of the polling we do though is either for clients or our own internal purposes and doesn't get released whether it's good for Democrats, good for Republicans, or somewhere in between.

In the case of the Giron recall, this was the first legislative recall election in Colorado history. There's been a lot of voter confusion. We decided to do a poll there over the weekend and decide whether to release it publicly depending on whether the results made sense or not.

When we got the results back, we found that 33% of Democrats in the district supported the recall. It might be normal for Democrats in Kentucky or West Virginia to abandon their party in those kinds of numbers, but that doesn't happen in Colorado or in most of the rest of the country. That finding made me think that respondents may not have understood what they were being asked, so I decided to hold onto it. I would have done the same thing if we'd found 33% of Republicans saying they opposed the recall.
Five Thirty Eight's Nate Silver—who, according to the author of PPP's Twitter account, has had a long-standing beef with the polling firm—took a shot at them on Twitter:

And we were off to the races: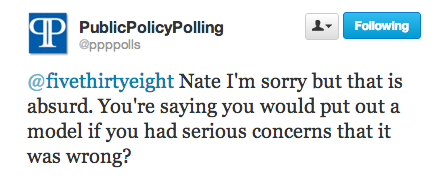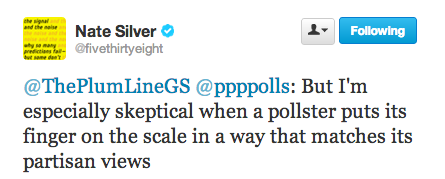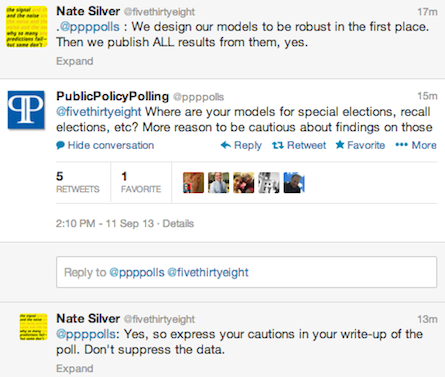 [Image via MediaBistro, PPP]
——
>> Follow Evan McMurry (@evanmcmurry) on Twitter
Have a tip we should know? tips@mediaite.com