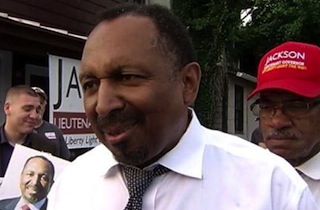 E. W. Jackson, the conservative GOP candidate for Lieutenant Governor in Virginia, disputed Pope Francis' statements last week calling for the Church to be more tolerant in the realm of social issues, especially gay marriage.
"I know even the pope has said when we talk about these things, we imply a kind of intolerance. That is not the point at all," Jackson said on Sunday. "The point is to be true to the word of God. The point is to stand up and tell the truth. There is no better way found, ever, to raise children than with a mother and a father in the home. Even sociologically, you can make the argument."
"The family was ordained by God," Jackson continued. "He ordained it one man and one woman in the bonds of holy matrimony. [In the Bible] I don't hear anything about two people of the same sex being married."
Maddow Eviscerates GOP's Obsession With Sodomy, Voodoo, Satanism: 'This Is What Party Is Like Right Now'
In a lengthy and surprisingly frank interview published last week, Pope Franics told the Church to stop "obsessing" over issues like abortion and gay marriage, particularly instructing Church members to be more accepting of gays and lesbians. The remarks were quite a departure from previous Church doctrine.
"This is not about hating people based on their sexual orientation or based on same-sex relationships or having bigotry against them," Jackson said, but about whether "this culture is going to remain a culture based on Judeo-Christian values and principles, or whether we're going to become something else."
[h/t TPM, Times Dispatch]
[Image via NBC Washington]
——
>> Follow Evan McMurry (@evanmcmurry) on Twitter
Have a tip we should know? tips@mediaite.com