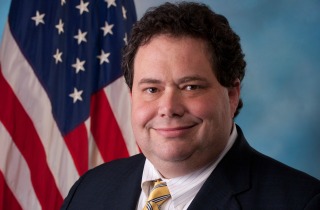 For Rep. Blake Farenthold (R-TX), this past week has truly blown.
On Friday, a former female employee filed suit against him, alleging a hostile work environment, gender discrimination, and a retaliatory firing. And on Monday (in much lighter news), it was discovered that the socially conservative lawmaker owns a porn-like URL.

The former employee, Lauren Greene, alleged that "Farenthold regularly drank to excess, and because of his tendency to flirt, the staffers who accompanied him to Capitol Hill functions would joke that they had to be on 'red head patrol' to keep him out of trouble." Her lawsuit claimed that the congressman frequently attempted to gauge her sexual interest in him.
"The Congressman is eager to respond to Ms. Greene's allegations through the appropriate legal process," Farenthold's office responded. "[We are] confident that once all of the facts are revealed, he will be cleared of any wrongdoing."
Last week, BuzzFeed's "Andrew Kaczynski" unearthed Farenthold's ownership of "www.blow-me.org," purchased in 1999 likely as a "cybersquatting" investment in a potential URL desired by porn makers. "Farenthold did not use the name and does not intend to renew it," a spokesman said.
On top of that, this old photograph of Farenthold has been making the rounds yet again:
Congressman known for wearing ducky pajamas is now facing allegations of sexual harassment. http://t.co/iYJ5tkgRdY pic.twitter.com/pUIjRPP6j1

— Ryan J. Reilly (@ryanjreilly) December 16, 2014
(Context: This particular image first surfaced during Farenthold's 2010 congressional campaign and was used by Democrats in an ad mocking him.)
Have a tip we should know? tips@mediaite.com