Got A Million Dollars Lying Around? Then Buy An XBox Signed By Sarah Palin!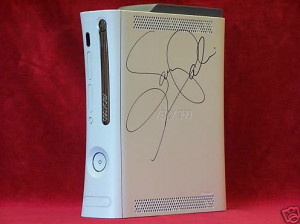 And now, back in the lighter side of news related Sarah Palin: How would you like to own an Xbox 360 signed by the former Governor of Alaska? David Morrill, a Canadian who was visiting Alaska a couple years back while Palin was holding a Governor's Picnic. He stopped in, got her to sign his Xbox, and is now selling it on eBay. The amazing thing? The opening bid is $1,100,000. Hopefully inclusion of Sarah Palin's signature makes Halo a whoooole lot more fun.
Here's the story of how the prized possession came to be, taken from the eBay auction:
"My name is David Morrill. I live in Alberta Canada and I have always wanted to drive the Alaskan highway from my home near Edmonton Alberta, all the way to Alaska. This trip is about a 7000km / 4300mi round trip. I figured that since I was going up there anyway, I should try to see the most famous person from that state, so I timed my trip with the governors picnic in Wasilla. When the governors picnic took place there were hordes of people trying to see her, but I pushed my way through the crowd to the front of the line. When I was in front of Sarah Palin, I told her that I had traveled three days to see her and asked her to sign my Xbox360. She said it was the most extravagant thing she had ever been asked to sign. I shook her hand, removed myself from the crowd, and then I packed up my Xbox360 and headed home. It was one of the greatest thrills of my life to have watched Sarah Palin on CNN, SNL, Youtube, and then to see her right in front of me."
Huh. Doesn't it seem like there's one piece missing from this story? Namely, why on earth would he have her sign an Xbox? For real. Why was it even in his car? And you know everyone else thought it was weird. Just look at the woman in white standing next to him in the pictures. You know she's thinking, "Dude, just go get a copy of Going Rogue."
Anyway, that's what he did and now he's hoping to get more than a million dollars for it. We wish him luck and, to help, we're sending the story out to all of you. So, if any of our readers really love Sarah Palin, really love BioShock 2, and really have $1,100,000 lying around (plus $15 standard shipping), then have at it! The Sarah Palin Xbox could be yours!
(h/t Reddit)
Have a tip we should know? tips@mediaite.com