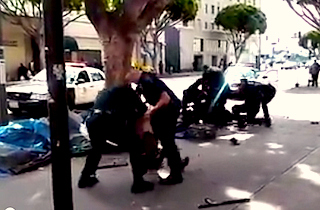 A video captured by a bystander in Los Angeles Sunday afternoon showed LAPD officers fatally shooting a homeless man.
Police said they responded to calls of a robbery around noon. A struggle ensued with the unidentified suspect, whom witnesses said had been living on LA's skid row after leaving a mental health facility. Use of a taser on the individual was "ineffective," said LAPD commander Andrew Smith, and was followed by "a struggle for the officer's gun."
Two officers shot the suspect five times.
"Why y'all shoot that man?" another bystander was heard to yell at the officers, who all had their guns drawn by that point.
"There are six motherfucking police officers out here," another man, possibly the one videotaping the incident, was heard to yell. "Ain't nobody got no fucking guns."
The individual was pronounced dead at the scene, while a couple of officers were treated for minor injuries.
The LAPD said the officers' body cameras captured the incident, and that nearby security cameras could provide additional footage.
The Police Commission President Steve Soboroff said an investigation would be conducted to determine whether the suspect in fact reached for an officer's gun. "To me, that would be the only explanation that something would happen that quickly," Soboroff said. "It escalated right in front of our eyes."
The LAPD tweeted about the incident late Sunday night:
During the events of the radio call of a robbery, #lapd officers made contact with a suspect who immediately began fighting officers

— LAPD HQ (@LAPDHQ) March 2, 2015
#lapd officers attempted to use a #TASER to subdue suspect but suspect continued fighting and resisting. Suspect fell to the ground…

— LAPD HQ (@LAPDHQ) March 2, 2015
While on the ground,suspect and #lapd officers struggled over one of officer's handgun at which point an officer involved shooting occurred

— LAPD HQ (@LAPDHQ) March 2, 2015
We will continue to keep you updated on this investigation in an effort to continue to enhance transparency between the #LAPD and Community.

— LAPD HQ (@LAPDHQ) March 2, 2015
Watch the clip below, via Facebook WARNING: GRAPHIC:
UPDATE — 1:40 p.m. ET: The video has been removed from Facebook, so see here below:
[h/t Los Angeles Times]
[Image via screengrab]
——
>> Follow Evan McMurry (@evanmcmurry) on Twitter
Have a tip we should know? tips@mediaite.com