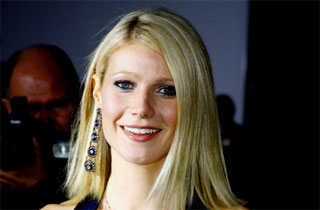 Yesterday we speculated that Gwyneth Paltrow, a lifestyle guru so rarefied that she probably craps orchids, may have failed the SNAP challenge, which asks people to eat on a food stamp budget for a week. Today she confirmed that yes, she absolutely did, and it took her four days of eating like a Poor to break her.
Though she attempted to put her family on the diet, which gave her a $29 budget to work with, Paltrow wrote on her blog that she couldn't make it: "As I suspected, we only made it through about four days, when I personally broke and had some chicken and fresh vegetables (and in full transparency, half a bag of black licorice)."
And then Goop floated off to a movie premiere, where she was offered $80 worth of barbecue-inspired food — but before she did, she had a Learning Moment where she expressed Empathy towards working-class mothers who need SNAP benefits:
Sorry to go on a tangent, but many hardworking mothers are being asked to do the impossible: Feed their families on a budget which can only support food businesses that provide low-quality food. The food system in our beautiful country needs to be subjected to a heavy revision—it is a cyclical problem, with repercussions that we all feel. I'm not suggesting everyone eat organic food from some high horse in the sky. I'm saying everyone should be able to afford fresh, real food. And if women were paid an equal wage, families might have more of a choice in the grocery aisles, not to mention in the rest of their lives.
Because nothing says "advocate for the poor" like Gwyneth Paltrow, who could hardly put herself through the type of situation that the millions of hardworking mothers are forced to go through. (This is what she normally buys on a regular basis, so, there's some context for you.)
[h/t Reddit]
[Image via Tinseltown / Shutterstock.com]
—
>> Follow Tina Nguyen (@Tina_Nguyen) on Twitter
Have a tip we should know? tips@mediaite.com