Deli Owner Says 'White History Month' Sign Hurt Business, Asks for Crowdfunding Help
A business owner says he's suffering financially just because he publicly expressed his controversial views and there is now a crowdfunding page to help him out. Sound familiar? Well, unlike in the case of Memories Pizza, New Jersey deli owner Jim Boggess didn't say he would refuse to serve certain people, he just asserted a certain controversial racial viewpoint.
That viewpoint? That people should be free to celebrate their "white heritage" for White History Month: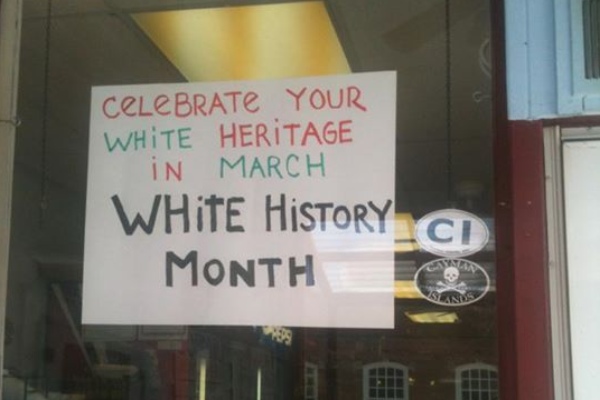 Boggess owns Jimbo's Deli, and he got in trouble after a customer complained about the sign last month. Boggess refused to take it down, and both he and the man who complained got some pretty vicious responses. Boggess insisted, "I love everybody, and everybody should celebrate what they are. I shouldn't have to feel bad about being white."
He ended up taking it down, but this week he set up a GoFundMe page saying he's been suffering financially:
It was only supposed to be a white thing but people read more into it than that… I have become heavily in debt and getting shut off notices from everywhere for both business and home. I don't think I deserve this just because I wanted to be proud of being white and be able to celebrate my heritage like everyone else does. If you read this , please leave a comment and what state your from so I can see where my support is coming from. Thank you for all the support and. I WILL stay strong and hope to find a job .
As of this posting, he's received $245.
[h/t Gawker]
[image via Jim Boggess]
— —
Follow Josh Feldman on Twitter: @feldmaniac
Have a tip we should know? tips@mediaite.com
Josh Feldman - Senior Editor