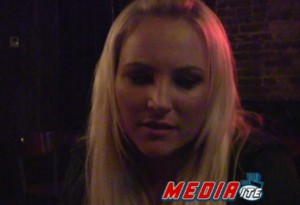 Senator and Mrs. John McCain held a book party in honor of America, You Sexy Bitch: A Love Letter to Freedom, co-written by Meghan McCain and comic actor Michael Ian Black, at New York's Southern Hospitality barbecue and steak house Tuesday night, where the freshly-minted Sexy Bitch author sat down for a brief, somewhat intimate conversation about the book, her political beliefs, her famous and proud papa, and the dating life of a political media celebrity.
My strategy was to wait until Meg was good and liquored up from the generous open bar at the event, but she annoyingly managed to hold onto her senses. Even so, she was candid about her experiences, saying that the beginning of her time on the road with co-author Michael Ian Black was "like the longest first date of my life," but "we had a great time, too" doing drunken karaoke, getting high ("which is everybody's favorite part of the book, apparently"), and becoming "really good friends."
Meghan also talked about what kind of high she gets (mellow), and surprised me with her views on abortion rights. While she describes herself as "pro-life," she doesn't favor overturning Roe v. Wade.
The sweetest moments in our interview, however, were when she talked about her father, Sen. John McCain, especially when compared with the interview he gave me earlier in the evening. The similarities in their observations about each other, and in the way they spoke about each other, revealed a closeness that their words alone could not.
I also asked Meghan to talk about what she looks for in a romantic partner, and forced her to describe a recent bad first date, whom she gallantly declined to identify by name. She then revealed that there's talk of an online dating project for The Daily Beast, which she's very skeptical about.
Check out our interview to find out how that unidentified suitor scored his date with Meghan McCain, and more:
Follow Tommy Christopher (@TommyXtopher) on Twitter.
Have a tip we should know? tips@mediaite.com