John McCain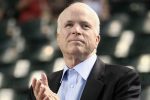 John McCain was a politician and military officer who served as the U.S. Senator from Arizona from 1987 until his death in 2018. He fought in the Vietnam War and was a part of Operation Rolling Thunder.
John McCain Q&A
When did John McCain run for president?
He ran for president twice, in 2000 and 2008.
John McCain Noteworthy Stories
September 1, 2018
At John McCain's funeral, Obama, Bush, and Megan McCain take swipes at President Trump.
August 27, 2018
After John McCain's passing, Katie Tur said, "The bipartisan, truth-seeking, country-first, principled brand of Republican politics that John McCain embodied is gone,"
Latest John McCain Stories