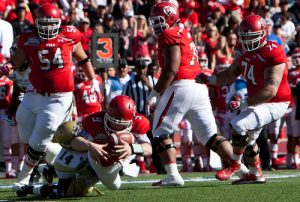 It ain't the Rose Bowl, but it is a bowl matchup between Pac 12 and the Big 10, and those are usually fun. It's No. 18 Utah vs. Indiana in the Foster Farms Bowl at Levi's Stadium in Santa Clara, CA.
Utah notched some pretty stellar wins early in the season — defeating rival BYU and USC, among others. But they fell apart late, dropping three of their last four. But really, the only disappointing result was a home loss against Oregon. They dropped a close one at home against conference champion Washington, and a close one on the road against conference runner-up Colorado. All-in-all, the Utes have had a solid campaign.
They'll look to cap it with a win over Indiana, which squeaked into the bowl season with a 6-6 record. Still, the Hoosiers haven't exactly been a football powerhouse. And as such, they really didn't have a bad year themselves. Indiana was not disgraced in losses against top 10 teams Ohio State, Penn State, and Michigan — they even had second half leads against the Nittany Lions and the Wolverines. But they'll have to put four solid quarters together in order to beat a good Pac 12 squad like Utah.
Kickoff is at 8:30 p.m. ET. The game will air on FOX. Gus Johnson and Joel Klatt, the network's lead college football announce crew, have the call. The action can be streamed free with a cable subscription on pc, cell phone, or tablet via Fox Sports Go — which can be downloaded via the iTunes store, the Google Play store, and the Windows store.
Have a tip we should know? tips@mediaite.com