How to Watch the Vikings-Bears Monday Night Football Game Live Stream Online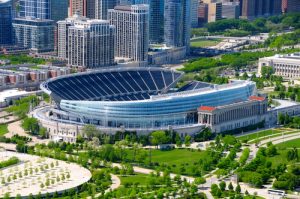 Sunday was one of the most joyous sports nights in Chicago in decades, as the Cubs pulled out their first World Series home win in 71 years to stave off elimination and keep their title hopes alive. Monday night in Chicago features a game certain to be a lot less joyful.
The Bears return to Monday Night Football this week, their second appearance of the season. They'll host the Minnesota Vikings, who enter the contest fresh off their first loss of the year last week in Philadelphia.
The Bears are in turmoil at 1-6. The embattled Jay Cutler gets the start at quarterback according to the embattled coach John Fox. With a bye coming up next week, Fox would do well not to make sure the Bears embarrassed on Monday night.
That outcome is entirely possible with the Vikings coming to town. The NFC North leaders Have had eight days to stew on their loss against the Eagles, and figure to take their disappointment out on the hapless Bears. The Vikings enter having given up only 14 points per game defensively so far this year, a league-best mark. That's not good for a Chicago offense that hasn't been able to get out of its own way.
Kickoff for is set for 8:30 p.m. ET. Sean McDonagh and Jon Gruden have the call. You can catch the action live on ESPN, or stream it online via WatchESPN on your pc, phone, or tablet. The NFL Mobile app offers another way to watch on your phone or tablet. Both apps can be downloaded from the Apple App Store, Google Play, and the Windows Store.
[image via Richard Cavalleiri – ShutterStock]
Have a tip we should know? tips@mediaite.com