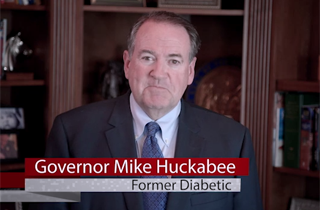 Doctors hate this one weird diabetes cure that Mike Huckabee claims can "reverse" diabetes! Well, actually, they do dislike it. And they also dislike the fact that Huckabee seems to be making money off of peddling pseudoscientific diabetes cures.
The New York Times reports that for the past year, Huckabee has been promoting a diabetes cure containing the ingredients found in cinnamon buns — yes, that's what the makers of the "cure" actually say — and that, for the low price of $19.95, you can buy a "Diabetes Solution Kit" that helps people reverse their diabetes using a "weird spice, kitchen-cabinet cure."
"Let me tell you, diabetes can be reversed," Huckabee says in a video running on the manufacturer's page. "I should know because I did it. Today you can, too."
And the "weird" cure is…cinnamon. Which the scientific community roundly agrees isn't an actual diabetes cure:
Although supplements line the shelves of pharmacies and supermarkets, scientific organizations say the evidence for their help in treating diabetes, the seventh leading cause of death in the United States, comes up short.

The American Diabetes Association advises, "Research has not been able to prove that dietary or herbal supplements (including omega-3 supplements, cinnamon and other herbs) help to manage diabetes."

David Schardt, senior nutritionist for the Center for Science in the Public Interest, said: "When you look at good studies, cinnamon and chromium don't have an effect. There are some crumby studies that show they have some effect." The poor research, he added, largely was done in China, Iran and Turkey.
A spokeswoman for Huckabee said this month that Huckabee had ended his relationship with the kit's maker, Barton Publishing of Brandon, S.D,, and during a campaign event in Iowa, Huckabee said he'd actually never used cinnamon and chromium picolinate to cure his diabetes, despite his appearance in the video. "I'll do anything that promotes good health. Yes, sir," he told a questioner. (It is unclear how much money Huckabee made from the endorsement.)
Question: Is Mike Huckabee now the Dr. Oz of the GOP? Discuss.
Watch a snippet of the video below, via DiabetesReversed.com:
[New York Times]
[Image via screenshot]
— —
>> Follow Tina Nguyen (@Tina_Nguyen) on Twitter
Have a tip we should know? tips@mediaite.com