'I Built This Event': Conor McGregor and the UFC Take New York City by Storm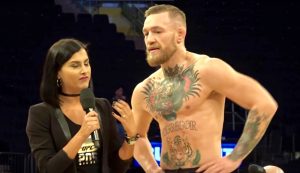 He made his fans wait, as big stars are wont to do. He was due at 11:40 a.m. ET. He didn't arrive for nearly another hour.
The crowd, roughly a thousand strong seemed a little restless. But they were patient. They came to see him, and they were willing to stay until he arrived.
Finally, he emerged on to the Madison Square Garden floor. And the people jumped to their feet. So many one-named sports greats have plied their trade at the Garden over the decades; Jordan, Ali, Gretzky, LeBron, Serena.
And now Conor.
To suggest that Conor McGregor has already reached the historic heights of those other legendary athletes is folly. But to say that he never could seems more than a bit short-sighted. Conor McGregor has — along with Ronda Rousey — thrust mixed martial arts into the national sports conversation. He has become a crossover star. Someone who commands attention in the mainstream. Someone who evokes a sort of curiousity. Someone who goes by one name.
His only duty on Wednesday was to greet the fans and work out for fifteen minutes on a mat set up on the Garden floor. But even in going through those mundane motions, he managed to give his fans a thrill. He managed to give them a memory.
Somebody tossed him a basketball. He took a couple of dribbles, and hoisted it up from the top of the key. The ball took a few bounces off the rim, and somehow dropped in, to the roars of the Garden faithful.
The shot, which took forever to fall through the hoop, was something of a metaphor for UFC's rocky road to New York — the last state in the union to legalize mixed martial arts. After years of legislative battles in Albany, the UFC's lobbying effort worked — paving the way for one of the biggest sports stars in the country, if not the world, to play Gotham for the first time.
And though he's not exactly the humble type, McGregor probably is not wrong in saying that he played a major role in bringing the sport to New York. The level of celebrity that he and Rousey achieved brought the sport to a mass audience. And pressure from that mass audience helped put pressure on Albany to make Saturday night's historic UFC 205 card happen.
"I couldn't miss this event. I built this event," the champ said, pounding his chest. "So here I am.
[image via screengrab]
–
Follow Joe DePaolo (@joe_depaolo) on Twitter
Have a tip we should know? tips@mediaite.com
Joe DePaolo - Senior Editor