'I Can't Feel My Face': This Writer's Hilarious Headlines Are Getting Us Through The Endless Winter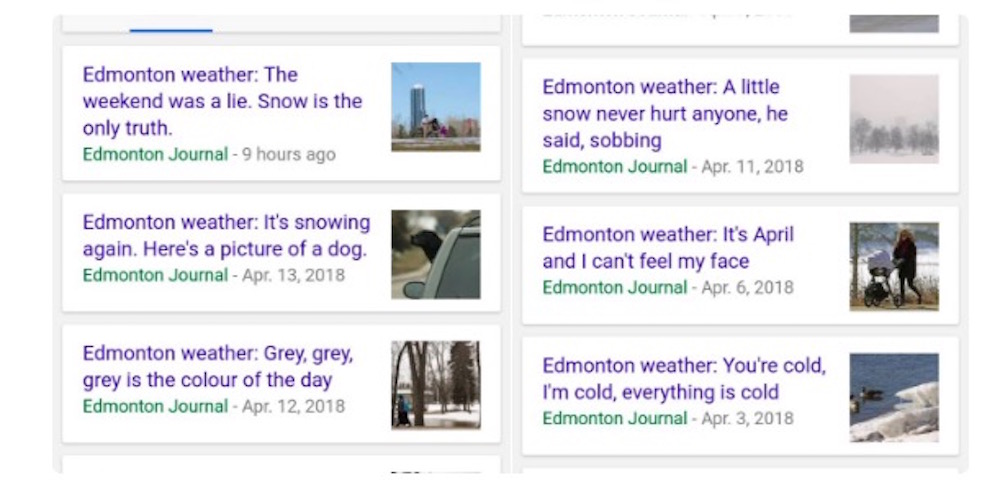 If anything good has come out of the eternal winter plaguing much of North America, it's the headlines being published by a century-old newspaper's digital arm in Alberta, Canada.
Like much of the entire population across the continent, the Edmonton Journal seemed to become exhausted — even agitated — by the never-ending harsh weather. "Edmonton weather: You're cold, I'm cold, everything is cold," a headline read on April 3, published on the Journal's site. Two days later, a sarcastic undertone could be read in between the lines: "Edmonton weather: Waking up to a -25 windchill is the best."
By April 11, despair was the obvious theme for the paper's latest weather headline: "Edmonton weather: A little snow never hurt anyone, he said, sobbing."
The man behind the headlines is Edmonton Journal online editor, Trevor Robb. In an interview with Mediaite on Friday, Robb described his headlines as a "cathartic" way to bring some positivity to the folks of Edmonton during an unusually cold season. "It's pretty cool to see just how many people have been enjoying them as I slowly slip into madness this winter," he said.
Robb began producing weather reports for the Edmonton Journal — which covers the capital city of Alberta — in January. The posts started out as "straightforward" updates on what conditions locals could expect in the days ahead, he said, before they eventually took on a life of their own.
"As winter carried on into March and into April I just started to lose it a little, much like everybody else in Edmonton," Robb told Mediaite. "I like to joke around and I like to make people laugh, so I started writing headlines that were more sarcastic than anything."
The feedback was nearly immediate, with several of his headlines going viral across Twitter thanks to Alberta locals who noticed the strange pattern in Robb's articles. The journalist said the response to his takes on the weather have been staggering, offering a theory as to why so many people enjoyed and engaged with the posts.
"I was certainly channeling some frustrations I had, and I felt most Edmontonians were right there with me," Robb said. "Weather is one of those topics of conversation we all can kind of have, even with strangers, and when the weather gets crappy it's certainly something people in Edmonton kind of galvanize around."
As the winter has receded and the sun begins to shine across Edmonton, Robb's headlines appear to have gotten slightly more upbeat. "Edmonton weather: Let us bask in spring's warm, glowing warm glow," one read on Friday. And another, to celebrate the unofficial marijuana holiday: "If there's a haze over Edmonton, well, it's 4/20."
Robb said he's thankful the spring is finally coming around, though he's appreciated receiving messages from readers who delighted in his humor during the winter storms.
"I received one today from a reader who has been collecting the headlines," he said. "She said, 'they were so personal, it felt like there was a real human behind the headline. A depressed human, like the rest of us.'"
[image via screengrab]
—
Follow Chris Riotta (@ChrisRiotta) on Twitter
Have a tip we should know? tips@mediaite.com