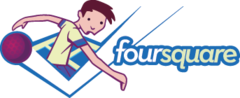 As we approach the start of a new decade, it seems new methods will be perceived as romantic. Forget the skywriter at the beach or the JumboTron at the big game — we're entering an era of marriage proposals via social networks, and the city-centric meet-up software FourSquare just scored its first.
With the program on your cell phone, you can "check-in" to venues around town and receive a notification if your friends are around. That got Alex Marsh thinking — what if when he checked in at dinner with his girlfriend, he added "popping the question!" to his message, knowing full well that she would receive the update? She said yes — and checked in on Foursquare, as reported by Mashable.
The social media blog also scored an email from the newly engaged Susan Wilkison to Foursquare CEO Dennis Crowley about her big night:
Subject: My fiance proposed to me last night using Foursquare!

Hello! I'm so glad Foursquare has come to Raleigh-Durham!

I wanted to share that my fiance proposed to me last night using
Foursquare. We we're at dinner, both of us had our phones out, him to check
in, me looking up something else and ping! there was his check in shouting
"popping the question!" After he put the ring on my finger, I also checked
in to the location and shouted "and I said YES!"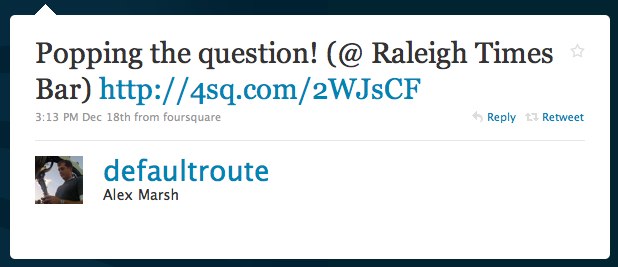 Maybe it's sort of cute, or maybe we're all just robots.
Man Proposes Marriage via Foursquare Check-In [Mashable]
Have a tip we should know? tips@mediaite.com