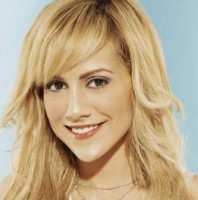 TMZ is reporting that actress Brittany Murphy is dead at 32 after going into full cardiac arrest early this morning. UPDATE: Many major outlets are now confirming the death, including Fox News and the Los Angeles Times.
Murphy began acting as young teenager on shows like Sister, Sister and Boy Meets World, and went on to star in films such as Clueless, Girl, Interrupted and 8 Mile.
Below is the text from the website, posted at 1:37 pm:
Brittany Murphy died early this morning after she went into full cardiac arrest and could not be revived, multiple sources tell TMZ.

She was 32.

A 911 call was made at 8:00 AM from a home in Los Angeles that is listed as belonging to her husband, Simon Monjack, the Los Angeles City Fire Department tells TMZ.

We're told Murphy was taken to Cedars-Sinai Medical Center where she was pronounced dead on arrival.

Murphy starred in such films as "Clueless," "8 Mile," and "Don't Say a Word."

Story developing …
TMZ was also credited as the first source to break the news of Michael Jackson's death earlier this year, earning the site mainstream credibility it previously lacked.
Below is a screenshot of their report: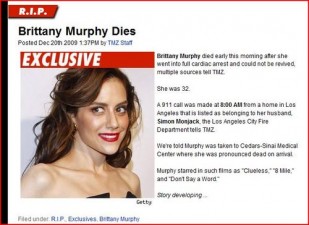 As of now, the report has not been confirmed by any other sources, but the way the news is spreading, especially online, speaks to the trustworthiness the website has earned on the celebrity death beat.
UPDATE: Wikipedia, however, does not seem to agree that TMZ is a "reliable source," according to the revision history of the article for Brittany Murphy:
"(Changed protection level of Brittany Murphy: repeatedly being declared dead; BLP is applicable until a reliable source cites her death…)"
via The Daily Huff
UPDATE (4:34 pmET): Gossip Cop has confirmed Murphy's death with Los Angeles Coroner's office:
Early this morning, Murphy went into full cardiac arrest and could not be revived. The Los Angeles Fire Department reports they received a call from a home belonging to Murphy's husband, Simon Monjack. Now an official in Los Angeles Coroner's office confirms to Gossip Cop that they are in receipt of a preliminary death notice for Brittany Murphy, and that her body will be transported to their office later today.

A rep for Murphy e-mailed Gossip Cop to say the family thanks everyone for their "love and support," and that "in this time of sadness," the family asks the public to "respect their privacy."
Have a tip we should know? tips@mediaite.com