'I'm Gonna Beat His Ass': Watch the Broncos and Titans Brawl After Dirty Play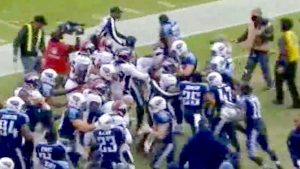 The Tennessee Titans and the Denver Broncos threw down during the second quarter of their game Sunday, following a dirty play in which one Denver player claimed that a Titans player "tried to end my career."
The brawl ensued shortly after Titans wide receiver Harry Douglas went right for the knees of Broncos defensive back Chris Harris Jr. during a seemingly innocuous running play in which the two players were not in the pile. Harris left the game momentarily, but fortunately, was not seriously injured.
On the next play, Broncos cornerback Aqib Talib was lined up against Douglas. The two quickly got into a shoving match, and a number of players from both teams quickly got involved in the fracas. No one was ejected. Talib was tagged with an unnecessary roughness penalty.
"It was a dirty play by a sorry player," Talib said. The Denver cornerback added of Douglas, "He's got the same agent as me, so when I see his ass in Atlanta, I'm gonna beat his ass."
Harris was taken aback by the incident.
"I was just standing there. I was nowhere near the play," Harris said, according to ESPN. "I mean, somebody tries to end your career, I can't believe he did it."
Douglas, meanwhile, defended his actions.
"(T)hat's a clean play," Douglas said. "It was a run play with me and him looking at each other, and I cut-blocked him. Like I told them, if they watch film, which they're supposed to do in the NFL, you would know I can cut-block in the run game and that's a legal play."
Watch the controversial play and subsequent brawl above, via CBS, and the postgame comments, via ESPN.
[image via screengrab]
–
Follow Joe DePaolo (@joe_depaolo) on Twitter
Have a tip we should know? tips@mediaite.com
Joe DePaolo - Senior Editor