Comedians End Up in Jail Trying to Unite New Yorkers Behind a Cause: Canceling SantaCon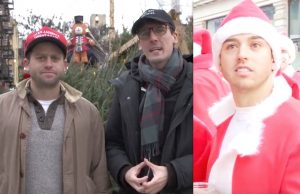 Back in October, we brought you the story of The Good Liars, the comedic duo of Jason Selvig and Davram Stiefler who Mediaite first identified as being responsible for a number of high-profile pranks on the campaign trail. To refresh your memory banks, Selvig and Stiefler were the masterminds behind the eerily-recognizable Donald Trump armbands that Fox News falsely reported on in March; the duo also heckled a Marco Rubio rally where they shouted that the Florida Senator was trying to steal their girlfriends.
They then rocked a set of "Settle for Hillary" shirts at a Hillary Clinton rally, and once hopped on stage with Ted Cruz to hijack the microphone once too. The Texas Senator and then-GOP candidate for President looked over and said, "Sir, who are you and what are you doing here? Are you a little bit confused?"
At a separate Cruz event, one of the comedians yelled, "Ted Cruz, look in the mirror and let the evil spirit leave! Leave your power-hungry demonic soul! Leave your wretched body!"
In time, it would be revealed that Selvig and Stiefler were working on a mockumentary called "Undecided: The Movie" (available on iTunes and Amazon), and even though the film has been released the team is anything but done with their high-flying pranks.
This past Saturday they teamed up again to target one of the things that New Yorkers hate the most: SantaCon, the annual booze-fueled festive romp through Gotham bars that usually amounts to puking, streets fights and public urination. Sure, there's technically a charitable aspect to the event, but it always draws the ire of the irritated New York crowd.
Enter Selvig and Stiefler, posing as a Democrat and Republican, who can finally come together on something they agree on: canceling the dreaded SantaCon. "We don't come together on a lot of things, but we do have one common cause that we agree on: we both hate SantaCon," they told a crowd in Chelsea on Saturday from a megaphone. The two even put up "SANTACON CANCELLED" signs in the city as park of the bit.
"Last year I saw a sex act in aisle four of Duane Reade at 14th and 3rd!" Selvig tells the crowd.
"I saw a guy throw up on a pile of garbage and then give a sexual favor on the same pile of garbage!" Stiefler adds to boos from the crowd.
"We're here to announce that SantaCon is canceled," they continued shortly before being arrested. And of course, in typical Good Liars fashion, they managed to fool the media as part of their latest stunt; on Saturday afternoon, the New York Post ran with the headline, "Santacon protesters and revelers clash during bar crawl," detailing the "protestors" who got taken away by the NYPD.
Watch above via The Good Liars.
Have a tip we should know? tips@mediaite.com