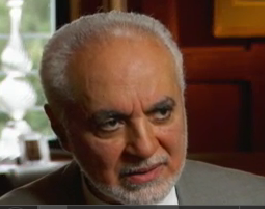 Christiane Amanpour just had very interesting interview with Imam Rauf, the man behind Park51 in Lower Manhattan. Rauf is impressive and well-spoken and it's hard to see an interview such as this and not to wonder whether he waited too long to speak on the matter, and what difference it might have made if he'd reached out to the media earlier.
Rauf weighed in a number of aspects of the 'Ground Zero Mosque' controversy including that he thinks the discourse over the mosque has been 'hijacked by radicals' and that politicians including Sarah Palin (whom he finds 'disingenuous') have used the community center for their own political ends.
That's been very difficult and very challenging, because, unfortunately, the — the discourse has been, to a certain extent, hijacked by the radicals. The radicals on both sides, the radicals in the United States and the radicals in the Muslim world, feed off each other. And to a certain extent, the attention that they've been able to get by the media has even aggravated the problem.
Rauf bristled at the idea that the moving would be a fair trade off for Pastor Jones agreeing to not burn Korans yesterday.
How can you equate burning of any person's scripture with an attempt to build interfaith dialogue? This is a house with multi-faith stakeholders, with multi-faith partners intended to work together toward building peace.
He also noted that if the Korans had been burned it would have "created a disaster" and the battle is not between Islam and the West but between moderates and radicals everywhere.
It would have created a — a disaster in the Muslim world. It would have strengthened the radicals. It would have enhanced the possibility of terrorist acts against America and American interests….And the battleground today, Christiane, is not between Islam and the West. The battleground has been moderates of all faith traditions in all the countries of the world against the radicals of all faith traditions in all parts of the world.
He also said if he had known the controversy Park51 was going to create he would have chosen another location, but also did not say he has any plans to move it. You can watch a portion of the interview below and I'll post the full clip when it becomes available. Updated: Full interview below.
Have a tip we should know? [email protected]
---