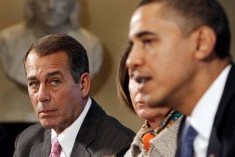 Here's a preview of how the Midterm media battles will be waged. The New York Times is running a front page feature on House Minority leader John Boehner ("a 60-year-old, perpetually tanned, sharply tailored, chain-smoking golfer") the man recently cast as President Obama's main foe in the Republican party, and Press Secretary Robert Gibbs has taken to Twitter to tell you how much he really wants you to read it.
The article details Boehner's "especially tight ties with a circle of lobbyists and former aides representing some of the nation's biggest businesses, including Goldman Sachs, Google, Citigroup, R. J. Reynolds, MillerCoors and UPS" and speculates on how these ties influence his political decisions in dubious ways.
From 2000 to 2007, Mr. Boehner flew at least 45 times, often with his wife, Debbie, on corporate jets provided by companies including R. J. Reynolds. (As required, Mr. Boehner reimbursed part of the costs.) In addition, over the last decade he has taken 41 other trips paid for by corporate sponsors or industry groups, often to popular golf spots. That makes him one of the top House beneficiaries of such travel, which has recently been curbed as a result of changes in ethics rules.
It goes on, but you get the picture, and the NYT has provided a handy little chart of 'Boehner's K-Street Cabinet.' Robert Gibbs, meanwhile, is very keen you read it. In a case of what might be called overplaying your Twitter, Gibbs has tweeted about the story no less than four times in the last hour, including expressing concern that the black and white chart doesn't give proper due to Boehner's tan. Feels like a bit too much of a good thing on Gibbs' part, but perhaps he's been inspired by the recent success of Sarah Palin and is hoping to wield his Twitter account in a similar manner. Maybe cluster twitters are the new negative campaign ad.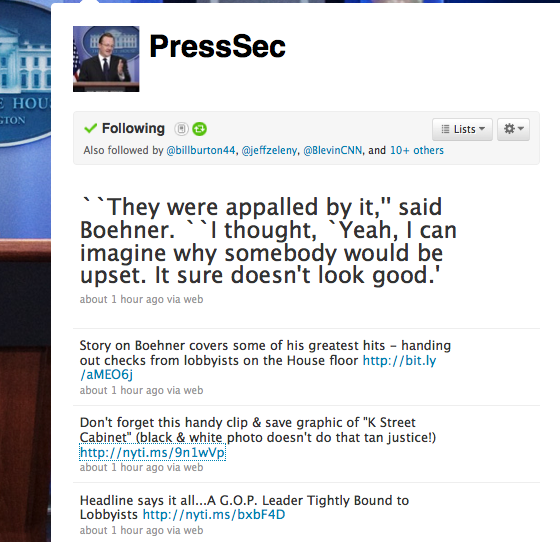 Have a tip we should know? tips@mediaite.com