Inappropriate to Debate Generals? Let's Revisit Times When Trump Did That Very Thing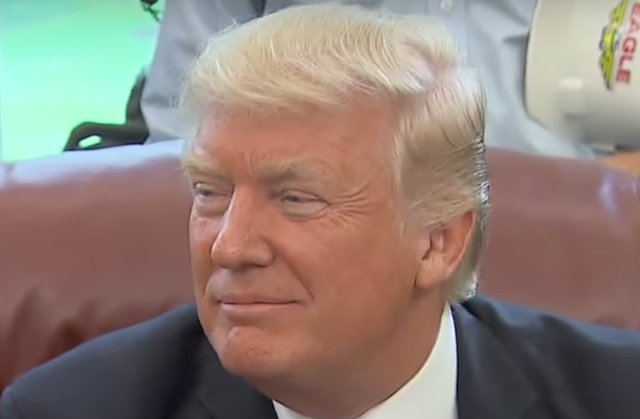 At today's White House press briefing, White House Press Secretary Sarah Huckabee Sanders got into a tense back-and-forth with the press corps when she was pressed on Gen. John Kelly's apparently false assertion that Rep. Frederica Wilson (D-FL) used a speech at an FBI building dedication to brag about getting funding rather than pay tribute to fallen agents.
During an exchange, when one reporter asked Kelly would be made available to the press again to answer questions about a video that showed Wilson didn't boast about getting money from Congress, Sanders shot back that "if you want to get into a debate with the four-star Marine general, I think that's something highly inappropriate."
So, in essence, the press secretary is saying that no one should ever question the statements of a general. Beyond being a fairly remarkable statement that flies in the face of the concept of American democracy, it also contradicts the words and actions of our current occupant of the White House, as he's had a history of questioning or criticizing military generals and leaders.
Shortly after the briefing, CNN's Jake Tapper highlighted a handful of tweets showing Trump going after generals:
General John Allen, who I never met but spoke against me last night, failed badly in his fight against ISIS. His record = BAD #NeverHillary

— Donald J. Trump (@realDonaldTrump) July 29, 2016
How can General Martin Dempsey tell Obama that delaying the Syria bombardment will have no consequences? He is no Patton or MacArthur.

— Donald J. Trump (@realDonaldTrump) September 3, 2013
I was never a fan of Colin Powell after his weak understanding of weapons of mass destruction in Iraq = disaster. We can do much better!

— Donald J. Trump (@realDonaldTrump) September 15, 2016
There was also Trump's infamous boast during the presidential campaign when he said that he knew more about ISIS than the generals, adding that we should "bomb the shit out of them."
And in September 2016, Trump suggested that he would fire all the top generals because they had been "reduced to rubble" under the "leadership of Barack Obama and Hillary Clinton." He further noted that they had "been reduced to a point where it's embarrassing to our country."
So, when Sanders is saying one should never debate our high-ranking military officers, we are to assume she's including the president in that blanket statement, right?
[image via screengrab]
—
Follow Justin Baragona on Twitter: @justinbaragona
Have a tip we should know? [email protected]