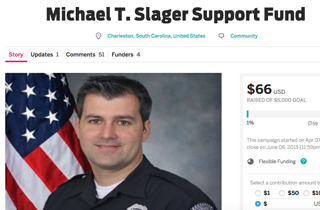 It's somewhat inevitable these days that, within hours of a newsworthy controversy, someone's going to make a crowdfunding page to support whomever they believe to be the true victims of the media/progressives/conservatives/the system/etc. Someone set one up for Michael Slager, the South Carolina cop charged with the murder of an unarmed man, and within hours it was shut down — which is one of the few times we've ever seen that happen.
GoFundMe, the site that hosted the initial crowdfunding campaign, told ThinkProgress that it had pulled a campaign contributing to Slager's defense due to its violation of the site's Terms and Conditions. Their spokeswoman declined to elaborate, but said that they could only "discuss the details of campaigns with the organizers."
The campaign has been moved to IndieGoGo, and also has a Facebook page, with numerous comments overwhelmingly accusing the page's organizers of making "a sad attempt at cashing in at a tragedy." IndieGoGo told ThinkProgress that as long as the page's founders are following their Terms of use, "we don't judge the content of campaigns as long as they are in compliance".
GoFundMe is no stranger to controversial crowdfunding: they hosted a fundraiser for Ferguson cop Darren Wilson, as well as the highly controversial fundraiser for Indiana's Memories Pizza, which became a conservative bellwether after they reportedly said they would not cater gay weddings. (They did, however, once take down a crowdfunding campaign raising money for an abortion, saying it was "inappropriate" for the site.)
Slager has been charged with the murder of Walter Scott after a video emerged of him firing eight times at the fleeing man, who he had pulled over for a traffic stop. His lawyer, who repeated his client's claims that Scott had scuffled with him and grabbed his taser, publicly dropped his client shortly after the video emerged.
[ThinkProgress]
[Image via screenshot/IndieGoGo]
—
>> Follow Tina Nguyen (@Tina_Nguyen) on Twitter
Have a tip we should know? tips@mediaite.com