Internet Users Think Steven Spielberg Killed Dinosaur, Accuse Him of Animal Cruelty
It started with this post of Steven Spielberg on the set of Jurassic Park, a fictional movie in which a scientist brings extinct dinosaurs back to life.
With the recent explosion in stories about people accused of animal cruelty by posing with dead animals, internet funny person Jay Branscomb posted it on Facebook with the following joke caption: "Disgraceful photo of recreational hunter happily posing next to a triceratops he just slaughtered. Please share so the world can name and shame this despicable man."
But put a man next to a dead animal, and you will have enough dumb commenters for a lifetime. This was one of the first to be posted: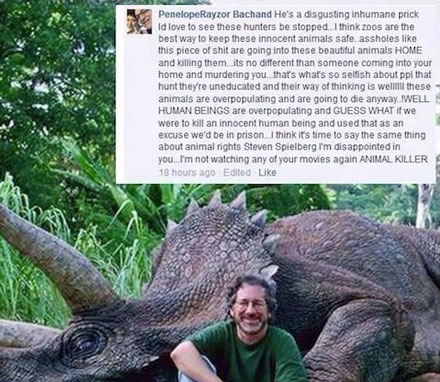 Said one: "what a sad ,disgusting scene…a wry smile on his face while this once proud mother animal breathes it's last…leaving the babies cowering in the brush to slowly, painfully starve to death…oh the humanity!!"
And, like raptors hunting the dumb brontosauruses, thousands and thousands of internet commenters descended to mock the people who didn't get the joke. There are currently over 6,000 commenters, but they're generally of this manner:
Christian Lanz: Guys, it might look sad but this is just a necessary form of population control. If left unchecked, Triceratops herds can actually harm the ecosystem by destroying unicorn grazing grounds.
(Editor's note: this is the first time I've worked on a post that actually broke my brain. Read the comments at your own expense.)
UPDATE – 07/12/14: Take a look at our Columnist Luke O'Neil's take on this HERE.
[h/t BuzzFeed]
[Image via screenshot]
—
>> Follow Tina Nguyen (@Tina_Nguyen) on Twitter
Have a tip we should know? tips@mediaite.com