Iranian Government Journalist Defects, Seeks Asylum in Switzerland During Nuclear Talks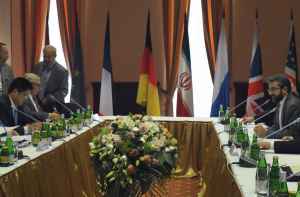 According to the British Telegraph newspaper, a close media adviser to Iran President Hassan Rouhani has defected, and is seeking political asylum in Switzerland after traveling there to report on Iran's nuclear talks with the U.S. and other western governments.
Amir Hossein Motaghi was reportedly a member of the Iran Student Correspondents Association (ISCA), and was highly successful at using social media to turn out young voters to elect Rouhani. After defecting and quitting his job with the ISCA, he talked to Irane Farda, an opposition TV station based in London, saying he no longer felt like a journalist.
"There are a number of people attending on the Iranian side at the negotiations who are said to be journalists reporting on the negotiations," he said, according to the Telegraph. "But they are not journalists and their main job is to make sure that all the news fed back to Iran goes through their channels. My conscience would not allow me to carry out my profession in this manner any more."
ISCA, for their part, released a statement in which the organization denied that Motaghi was sent to Switzerland to report on the nuclear negotiations: "Amir Hossein Motaghi had terminated his contribution to ISCA and this news agency has not had any reporter at the nuclear talks, except for a photojournalist."
Motaghi was reportedly told he may be arrested upon his return to Tehran. He was also apparently a friend of imprisoned Washington Post journalist Jason Rezaian, and lobbied for his release.
He seemed to give ammo to Republicans and Israeli Prime Minister Benjamin Netanyahu, who have been challenging President Barack Obama's administration on the merits of a deal with Iran: "The U.S. negotiating team are mainly there to speak on Iran's behalf with other members of the 5+1 countries and convince them of a deal."
[Image via screengrab]
— —
>>Follow Andrew Desiderio (@forza_desiderio) on Twitter
Have a tip we should know? tips@mediaite.com