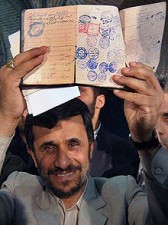 The internet was abuzz this weekend with a report claiming that Iranian President Mahmoud Ahmadinejad, a fervent opponent of Israel and frequent Holocaust denier, was actually of Jewish ancestry, evidenced by a photo in which the conservative leader held open his identification card after voting. Britain's Daily Telegraph reported early on Saturday in no uncertain terms alongside the accompanying photo (left):
A photograph of the Iranian president holding up his identity card during elections in March 2008 clearly shows his family has Jewish roots.

A close-up of the document reveals he was previously known as Sabourjian – a Jewish name meaning cloth weaver.
In a matter of hours, the largely unsubstantiated rumor spread virally across social networks like Twitter and Tumblr, automatically lending cultural capital to the claim. Then, probably afraid to lose out on a huge traffic yielding story, the news began appearing elsewhere. Popular Israeli publication YNet News picked up the report, as did the NY Daily News and websites like The Raw Story and Examiner.com, each without any additional reporting to corroborate the astonishing claim. The Atlantic's Jeffrey Goldberg addressed the news on his blog, but called it "immaterial" in the face of anti-Semitism, while Gawker's Foster Kamer used the dubious possibility as a launching pad for a tour de force, expletive-riddled rant about nukes and genitals.
According to the Telegraph, Ahmadinejad's family changed their surname after converting to Islam in the 1950s. Then came the psychoanalysis: "By making anti-Israeli statements he is trying to shed any suspicions about his Jewish connections. He feels vulnerable in a radical Shia society," said Ali Nourizadeh, from the Centre for Arab and Iranian Studies.
To follow, of course, was the buzzkill. Yesterday the Guardian, a rival UK publication, reported the denial "Ahmadinejad has no Jewish roots," in which a professor of Jewish history unequivocally refutes the claims about the meaning of the name-change and the Persian Jewish definition of the word sabour. "There is no such meaning for the word 'sabour' in any of the Persian Jewish dialects, nor does it mean Jewish prayer shawl in Persian. Also, the name Sabourjian is not a well-known Jewish name," he said.
Due to the shocking magnitude of the story, one would have expected intense skepticism about the possibility of an online hoax, but in this case, it seems not as if the Telegraph was seeking to sneak one by their readers, but rather that the inflammatory charge was highly debatable, leaving a large ethical question for those websites who chose to aggregate the news.
It was all too good to be true, really — a cosmic joke of impossible proportion or an explanative case of self-loathing too psychologically neat and tidy. It's not unlike the oft-circulated rumor that Adolf Hitler's grandmother was Jewish. But of course that, too, is false.
Have a tip we should know? tips@mediaite.com