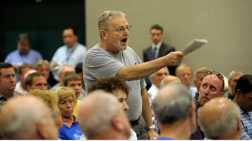 Is this is the political version of 'fool me once'? After a bruising August last year, which saw a slew of politicians being loudly berated by angry voters, the birth of the Tea Party movement, and drove cable coverage during the normally slow summer dog days, Democrats are apparently choosing to stay home. Or at least stay within the confines of invite only parties that serve "chilled wine" and "plates of crackers." This from today's New York Times:
Of the 255 Democrats who make up the majority in the House, only a handful held town-hall-style forums as legislators spent last week at home in their districts.

It was no scheduling accident.

With images of overheated, finger-waving crowds still seared into their minds from the discontent of last August, many Democrats heeded the advice of party leaders and tried to avoid unscripted question-and-answer sessions. The recommendations were clear: hold events in controlled settings — a bank or credit union, for example — or tour local businesses or participate in community service projects.

And to reach thousands of constituents at a time, without the worry of being snared in an angry confrontation with voters, more lawmakers are also taking part in a fast-growing trend: the telephone town meeting, where chances are remote that a testy exchange will wind up on YouTube.
Awww! Poor put-upon politicians. Cry me a river of chilled wine! I am going to hazard a guess that this strategy will not be long-lived. I highly doubt that the Dems will be able to keep themselves in the safe telephone zone if the Republicans venture out en masse. Also worth noting: it is only June, the season of Town Halls will not truly kick into gear until August, at which point Dems will have to weigh whether the furor over their absence is easier to cope with than the furor over their presence. Of course, considering the calamitous news cycle we seem to be trapped in it's anyone's guess what the political stage will look like come August.
Have a tip we should know? tips@mediaite.com