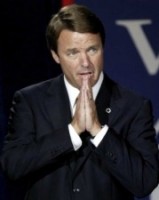 This is probably not what Time had in mind: Gawker is reporting that John Edwards and Rielle Hunter made a sex tape that was found by Andrew Young, one-time Edwards aide and author of The Politician, a new book whose released pushed Edwards to admit his paternity of Hunter's daughter. But couldn't this just be another publicity push for Young's book? Sourced only by anonymous parties leaking info to Gawker, it all seems like too perfect of a storm. Young's book comes out February 2nd.
Via the Gawker report:
Sources have told us that, in the throes of their affair, John Edwards and Rielle Hunter made a sex tape that contains "several sex acts." And that his aide, Andrew Young found it on an unmarked DVD.

The tape, say both our sources, is explicit and reveals that Edwards "is physically very striking, in a certain area. Everyone who sees it says 'whoa'. She's behind the camera at first."
Typical sex tape rumor fare — just ask Britney Spears, Lindsay Lohan and every other celebrity ever.
According to this version of the story, Young's "disillusionment with the 2004 vice presidential candidate and 2008 candidate came one day as he went through a stack of DVDs at Rielle Hunter's house." The former aide has a 20/20 appearance scheduled to air Friday, but something tells us John Edwards' private parts will only come up in vague ways.
Gawker is, of course, asking for a copy of the tape, and will likely shell out some big briefcases of cash to get their hands on it. Thank god Gawker exists to get to the bottom of something like this, but in the meantime, let's all enjoy the frenzy of speculation and finish our copies of Game Change.
Have a tip we should know? [email protected]