Jay Carney Says No One Ever Asked President Obama if He'd Met Uncle Omar Until Now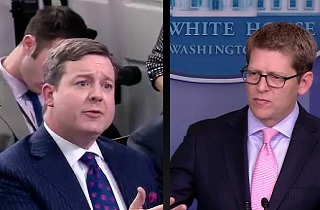 On Tuesday, The Boston Globe reported that Onyango "Omar" Obama, uncle to President Obama, says that his famous nephew stayed with him while a student at Harvard Law School in the 80s, in contradiction to The White House's contention that the two had never met. At Thursday's White House daily briefing, Press Secretary Jay Carney confirmed that the President had, in fact, briefly stayed with "his father's half-brother," as Carney described Omar Obama, and that no one had actually asked the President about it when the White House initially commented.
The 69 year-old Omar Obama has been facing deportation back to Kenya, but a judge ruled, on Tuesday, that he can remain in the United States. When the Boston Globe asked the White House about the President's relationship with his embattled uncle in January of 2012, the White House said they had never met, but in testimony during Tuesday's immigration proceeding, Omar Obama testified that the President had stayed with him when he was studying law at Harvard.
Fox News' Ed Henry asked Carney about the claim by the President's uncle, whom Carney cut Henry off to characterize as "his father's half-brother," and why the discrepancy in the stories.
Carney explained that the first time the White House was asked, they checked records, including the President's books, and found no record that the two had ever met, but had not asked the President about it at that time. "When Omar Obama said, the other day, that President Obama, back when he was a law school student, had stayed with him in Cambridge, I thought it was the right thing to do to go ask him, nobody had asked him in the past, and the President said that he had, in fact, met Omar Obama when he moved to Cambridge for law school, and stayed with him for a brief period of time, until his, the President's, apartment was ready."
"After that," Carney added, "they saw each other once every few months, while the President was in Cambridge, and then after law school, they gradually fell out of touch. The President has not seen Omar Obama in 20 years, has not spoken with him in roughly ten years."
Carney also confirmed, to Henry, that there was "absolutely zero interference" from the White House in Omar Obama's immigration proceeding.
Here's the video, from The White House:
Have a tip we should know? tips@mediaite.com