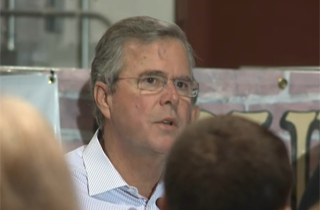 After days of dodging questions over whether he would have invaded Iraq in 2003, given what we now know about Iraq in 2015, Jeb Bush finally had an answer.
"If we're all supposed to ask hypothetical questions — 'knowing what we know now, what would you have done?' — I would not have engaged," he told reporters at an event in Tempe, Ariz., today. "I would not have gone into Iraq."

What would help at this moment is a timeline on Bush's comments about the Iraq War, going as far back as, oh, four days ago:
May 10, 2015: In an interview with Megyn Kelly, Bush said that he absolutely would have authorized the invasion of Iraq in 2003, but appeared to mishear Kelly's question. (Notably, the Fox anchor asked him if he would have invaded Iraq "knowing what we know now," whereas Bush answered as if he was going off the information that he had at the time.)
May 12, 2015: Sean Hannity asked the presumptive presidential candidate the question again, and allowed him to clarify whether he'd misheard Kelly's question. "I interpreted the question wrong, I guess," he responded:
He continued: "Knowing what we know now, you know, clearly there were mistakes as it related to faulty intelligence in the lead-up to the war and the lack of focus on security. And my brother's admitted this, and we have to learn from this."

Okay, but would he authorize the Iraq War in 2015, knowing what we know now?

Hannity asked and here's how the likely candidate responded: "I don't know what that decision would have been — that's a hypothetical."
May 13, 2015: At this point, Jeb is tired of the gajillion iterations of this question, and turns it into a Think Of The Troops moment. During a town hall event in Nevada, he said that the question "does a disservice" to the troops, that "rewriting history is hypothetical," and that "the focus ought to be on the future" of Iraq.
May 13, 2015; less than an hour later: Jeb rebukes a college student for saying his brother "created ISIS."
Watch below via 12News:
[Image via screeenshot/12News Phoenix]
—
>> Follow Tina Nguyen (@Tina_Nguyen) on Twitter
Have a tip we should know? tips@mediaite.com