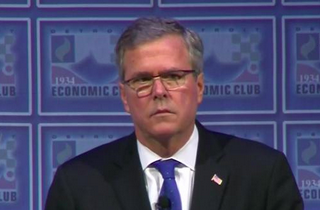 2016 almost-candidate Jeb Bush stood by remarks made in a 1995 book arguing that a greater sense of shame needed to be attached to unwed motherhood.
Bush was asked about the passage by MSNBC's Benjy Sarlin in the midst of an international trip that had arrived in Poland. He said his earlier view had been borne out by subsequent moral decline.
"My views have evolved over time, but my views about the importance of dads being involved in the lives of children hasn't changed at all," he said. "In fact, since 1995…this book was a book about cultural indicators [and] the country has moved in the wrong direction. We have a 40-plus percent out-of-wedlock birth rate."
"It's a huge challenge for single moms to raise children in the world that we're in today and it hurts the prospects," he continued. "It limits the possibilities of young people being able to live lives of purpose and meaning."
Bush's initial comments appeared in the chapter of Profiles in Character entitled "The Restoration of Shame," apparently ghostwritten by St. Augustine. In it he argued:
One of the reasons more young women are giving birth out of wedlock and more young men are walking away from their paternal obligations is that there is no longer a stigma attached to this behavior, no reason to feel shame. Many of these young women and young men look around and see their friends engaged in the same irresponsible conduct. Their parents and neighbors have become ineffective at attaching some sense of ridicule to this behavior. There was a time when neighbors and communities would frown on out of wedlock births and when public condemnation was enough of a stimulus for one to be careful.
Years later Bush would sign a law containing a "Scarlet Letter" provision requiring women giving infants up for adoption to post their sexual history. Then-state Senator Marco Rubio (R-FL) voted for the law as well, though the provision itself was later repealed.
[h/t MSNBC]
[Image via screengrab]
——
>> Follow Evan McMurry (@evanmcmurry) on Twitter
Have a tip we should know? tips@mediaite.com