Jeff Sessions Gets Roasted For Cackling at 'Lock Her Up' Chant: 'A Low Point in a Sea of Low Points'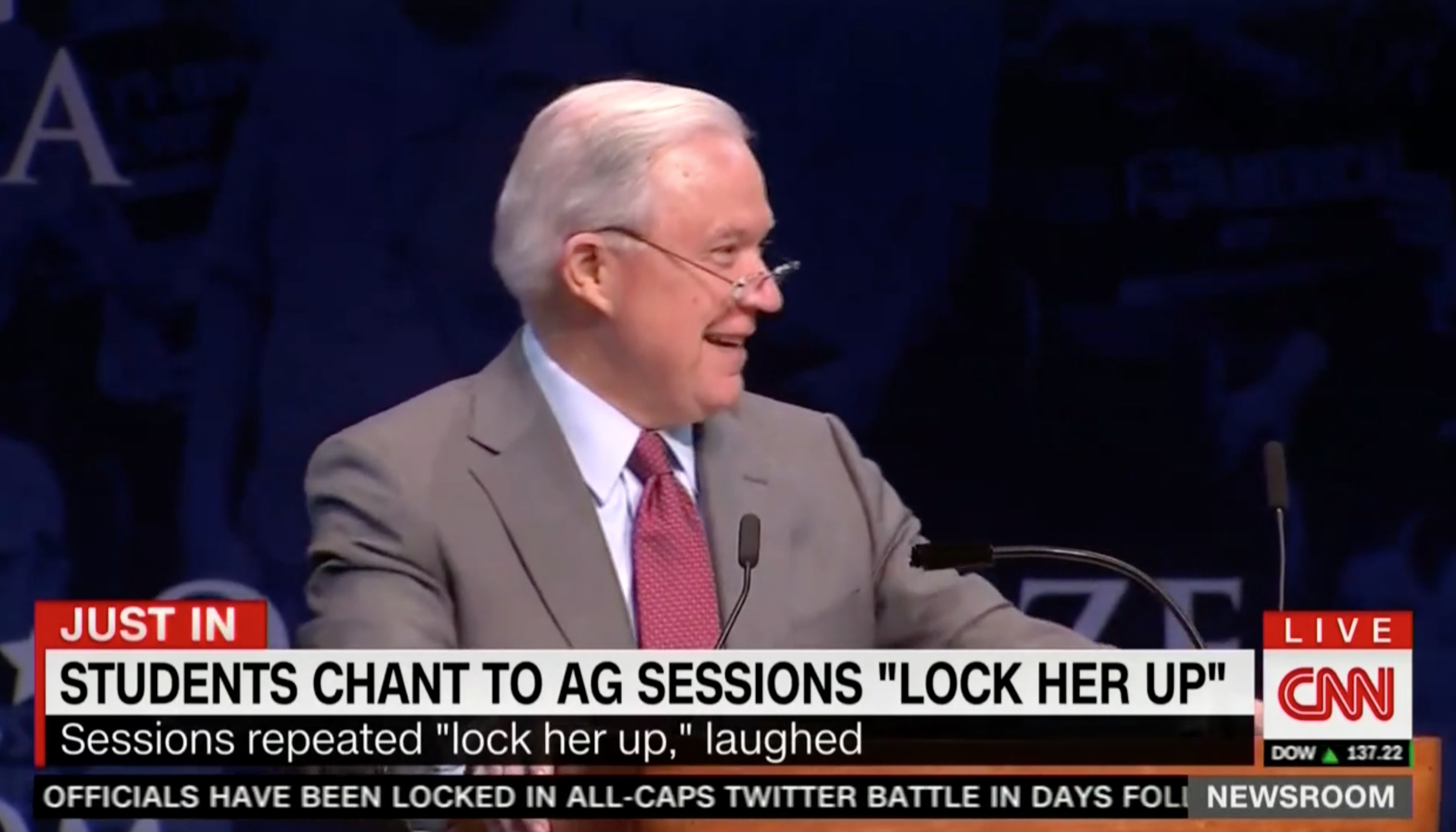 Political observers were not impressed with how Jeff Sessions handled the "lock her up" chants during his address to Turning Point USA's High School Leadership Summit.
As the Attorney General gave a speech about conservative censorship on college campuses, there was an odd moment when he laughed and went along with the audience as they chanted for Hillary Clinton to be thrown in jail.
There's a debate on Twitter about whether Sessions actively joined the chant, or if he repeated it in an awkward acknowledgement as he tried to move on. Still, Sessions has his critics, and they're not laughing with him over the idea of helping President Donald Trump imprison his political opponents.
Top law enforcement officer in the United States https://t.co/ZMnuqu8Bem

— Robert Costa (@costareports) July 24, 2018
AG Jeff Sessions is speaking in front of high school students in DC this morning. The students began chanting "Lock Her Up". Sessions repeated the phrase "Lock Her Up" with a chuckle.

It is July 24th 2018…

— Jason Hoffman (@JasonHoffman93) July 24, 2018
If you find Jeff Sessions laughingly repeating "lock her up" disturbing, wait 'til you discover that he has repeatedly violated his pledge to recuse himself from matters related to the '16 election https://t.co/WqgIxXJwNa

— Daniel Schulman (@DanielSchulman) July 24, 2018
WATCH: America's top law enforcement official thinks imprisoning Trump's political opponents is funny https://t.co/iXGErCMEp4

— Aaron Rupar (@atrupar) July 24, 2018
#AttorneyGeneralJeffSessions really went down market w the "lock her up" crap. Real low brow.

— Geraldo Rivera (@GeraldoRivera) July 24, 2018
Sure, Sessions is a petty authoritarian, but let's not lose sight of the fact that he also hates black people. https://t.co/8UDFrxuYy9

— Ian Millhiser (@imillhiser) July 24, 2018
This is a low point in a sea of low points. https://t.co/xkSkfyvtwe

— Soledad O'Brien (@soledadobrien) July 24, 2018
Not only should Jeff Sessions NOT have said "Lock her up," he should have used this as a teaching opportunity to mentor his young audience. This is called responsible adult leadership. Here's an example. https://t.co/BNuqFw2T2T

— Matt Lewis (@mattklewis) July 24, 2018
[Image via screengrab]
— —
>> Follow Ken Meyer (@KenMeyer91) on Twitter
Have a tip we should know? tips@mediaite.com