Jerry Sandusky's New Year's Resolution? Speak Publicly To Oprah Or Barabra Walters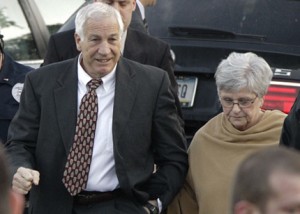 In a stellar portrait of Jerry Sandusky's wife, Dottie, Sara Ganim of The Patriot-News slips in a detail that seems somewhat innocuous, but might end up being a much bigger story as it develops. Ganim reports that the couple is considering speaking publicly about the accusations levied against Sandusky after the New Year to one of four major news personalities and programs: Oprah Winfrey, Barbara Walters, Rock Center, or 60 Minutes.
Whoever emerges victorious from this selection process will likely experience a ratings coup. Sandusky's story alone may be getting a little stale, but the fact that the plan appears to be alongside Dottie makes it a must-see. Ganim paints a picture of Dottie Sandusky as a woman who never had any suspicion of her husband's alleged misdeeds. But the accusers have helped to develop a far different picture of her — not as the doting wife of an innocent man, but as an accomplice who turned a deaf ear and blind eye to the alleged abuse. Earlier this month, one of the boys told a grand jury that, "at least one occasion he screamed for help, knowing that Sandusky's wife was upstairs, but no one ever came to help him."
There's no telling whether or not a joint appearance on any show will help the public image of Jerry and Dottie Sandusky (Jerry's appearance by phone on Rock Center in November was, by many accounts, a bit odd). But it might offer some insight into the couple and how they operate, and will definitely make for great television, no matter which program emerges victorious.
Have a tip we should know? tips@mediaite.com