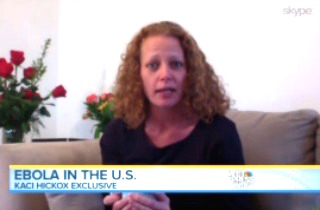 Kaci Hickox, the nurse who tested negative for Ebola but was quarantined against her will by New Jersey Gov. Chris Christie, penned an op-ed in The Guardian Monday morning in which she asked the media and others to stop calling her "the Ebola nurse."
Hickox, who was in the national media spotlight after openly defying efforts to quarantine her even though she never had Ebola, blasted Christie for forcing her into his "private prison in Newark," and called Christie and Maine Gov. Sam LePage "overzealous politicians" who just want to advance their political careers. She said Christie and LePage completely disregarded the science behind Ebola and exacerbated fear and misinformation in order to gain political acumen.
My liberty, my interests and consequently my civil rights were ignored because some ambitious governors saw an opportunity to use an age-old political tactic: fear. Christie and my governor in Maine, Paul LePage, decided to disregard medical science and the Constitution in hopes of advancing their careers. They bet that, by multiplying the existing fear and misinformation about Ebola – a disease most Americans know little about – they could ultimately manipulate everyone and proclaim themselves the protectors of the people by "protecting" the public from a disease that hasn't killed a single American. Politicians who tell lies such as "she is obviously ill" and mistreat citizens by telling them to "sit down and shut up" will hopefully never make it to the White House.
Hickox praised the "courageous and insightful" judge who declared her quarantine unconstitutional, and continued to blast politicians who took advantage of a health crisis for political gain. She said U.S. policies should not incite fear, but rather should reflect the reality that the majority of health workers returning from West Africa will not develop any symptoms of Ebola.
"Politicians get to enact laws, but they should not make public health policy without the input of the scientific community," Hickox wrote. "I, for one very healthy example, hope that humanity, science and compassion will overcome fear so that we can conquer Ebola. It can be done. It must be done."
You can read Hickox's entire op-ed here.
[Image via screengrab]
— —
>>Follow Andrew Desiderio (@forza_desiderio) on Twitter
[Note: Mediaite intern Andrew Desiderio is a student at The George Washington University.]
Have a tip we should know? tips@mediaite.com