Kathleen Sebelius Tells Americans 'Don't Give Up', Says Obamacare Site 'Running Smoothly'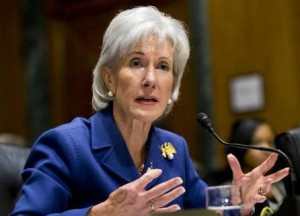 On the morning after the Obamacare website Healthcare.gov passed its own deadline for reasonable functionality, Department of Health and Human Services Secretary Kathleen Sebelius took to the pages of USA Today with an op-ed (published late Sunday night) boasting of the website's improvements, and urging consumers who have had trouble with the site not to give up.
The piece is short on the wonky details of the site's improvements, like a reduction in system response times, from 8 seconds in October to less than a second this past week and a decrease in the error rate from 6% to .75%, and geared more toward an audience that may be less engaged on the nuts and bolts of health care reform, but very interested in getting health insurance. From Kathleen Sebelius, via USA Today:
(T)oday's user experience on HealthCare.gov is a dramatic improvement over where it was on Oct. 1. The site is running faster, it's responding quicker and it can handle larger amounts of traffic.

Now, there will be exceptions, and (as with any website) we will continue to make improvements. But the system is now working smoothly for the vast majority of users.

There are many ways to sign up for coverage: online, by phone, in person and by mail. In many cases, you can also directly enroll through an insurance company.

To those Americans who have experienced difficulties online: Please do not give up. There is help available. You can call our 24/7 call center at 1-800-318-2596 for assistance in 150 languages. You can also find in-person support in your area(LocalHelp.HealthCare.gov).

For those who prefer to shop online, you may want to visit HealthCare.gov in off-peak hours when there is less traffic — mornings, evenings, or on weekends. Have your information ready when you log on, and comparison shop to get the best deal.
Coverage of the post-deadline website has been cautiously positive thus far, but one theme that has emerged is the notion that the Obama administration is trying to tamp down traffic to the site in order to avoid overwhelming the system. Sebelius' selection of USA Today, though, belies that narrative to some degree, as that paper caters to a wider, more broad readership than other outlets. However, Sebelius' advice that consumers avoid peak times, or use means other than the website to sign up, also seems designed to mitigate the effects of any possible difficulties due to a spike in traffic. They're not hiding the candle under a bush, but they appear to be asking people not to blow too hard around it.
[photo via screengrab)
Have a tip we should know? tips@mediaite.com