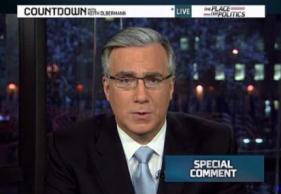 Keith Olbermann's Special Comment last night on his MSNBC show was about the undertones of racism within the Tea Party movement, and like he often does, he posted a portion on his Daily Kos blog.
Well that set off a series of back-and-forth comments between Olbermann and others about the diversity on the MSNBC airwaves.
The commenter "JoanMar" wrote that, based on Olbermann's comment (of which she agreed), "a tea party gathering looks something like MSNBC line-up on week-days."
Olbermann responded with a lengthy defense:
Lester Holt was our primary anchor at MSNBC until '04 or so, and he got promoted to NBC. And Alison Stewart had her own show and was my primary back-up (we got somebody named Rachel something to replace her), and then she went to raise a family (and do NPR for awhile) and now she's back part-time as Rachel's back-up, and Tamron is one of my back-ups and co-anchored her own two-hour political show in the afternoon, and you mentioned Christina Brown (call her "Christine" at your peril), and Carlos Watson had his own show (and that didn't work out very well for anybody, as will occasionally happen), and Gene Robinson is with me whenever he can spare the time (and is in the studio for all our long-form political coverage, and I try to glue him to the seat next to mine), and we get Clarence Page on whenever we can, and really we do as much astronomy as we do only because Derrick Pitts is so damn good, and somebody upthread mentioned Melissa Harris-Lacewell, and Paul Mooney used to come on for political comment. I'm not satisfied with this as the status quo, but I did want to balance the picture as much as it can be. And suddenly this got me thinking, I wonder if Derrick has ever thought about politics and tv…
There are a few interesting parts of this answer, including Olbermann's take on why Carlos Watson lost his show: "That didn't work out very well for anybody."
But it's true that there certainly is a diversity problem not just at MSNBC, but on all of cable news. You would be hard-pressed to find a non-white host on any of the cable news networks. And while the guest list may be getting more diverse, the major players remain largely Caucasian.
Here's last night's Special Comment:


—–
» Follow Steve Krakauer on Twitter
Have a tip we should know? tips@mediaite.com