Kirsten Powers: The People Who Believe Obama Is Muslim Are Republicans Who Don't Like Him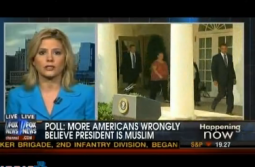 Fox's Kirsten Powers weighed in on the Pew poll results today that revealed the country is increasingly unsure of whether or not President Obama is a Muslim. This is how she explained the results: Republicans don't like Obama.
It has nothing to do with his approval rating numbers. His approval rating numbers are directly related to the economy. And if you look at this poll you see the people who believe this are Republicans who don't like him, and that's the bottom line…How it happened is the conservative media. It's the conservative media who have partnered up with conservative Christians who have started this.
Powers goes on to say she is uncomfortable calling this a smear campaign, because actually what is wrong with being Muslim? Indeed. She also notes that Obama should not have to come out and tell people that he is a Christian and how is spends his day. This last bit was in response to a breaking news flash at the beginning of the segment to report that they had done just that. Alas, here is the White House's statement confirming the President Obama is a Christian. Watch the full segment with Powers below.
President Obama is a committed Christian and his faith is an important part of his daily life. He prays every day, he seeks a small circle of Christian pastors to give him spiritual advice, he even receives a daily devotional that he uses each morning. The President's Christian faith is a part of who he is, but not a part of what the public or the media is focused on everyday.
Have a tip we should know? tips@mediaite.com