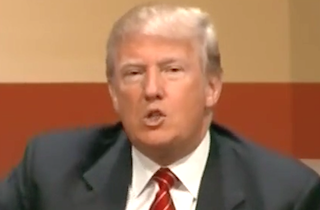 Celebrity plutocrat Donald Trump is headed to the U.S.-Mexico border this afternoon, in either a campaign stunt or a fact-finding mission, depending on your POV. One group he won't be meeting with: National Border Patrol Council Local 2455, Laredo's border patrol.
While acknowledging that the security of the border is an urgent issue requiring discussion, the union sounded unhappy about even the perception of allying the traveling smear carnival that is Trump's campaign.
Trump has been harping on the border for a while, largely through the prism of building a wall, which, hey, who builds stuff, amirite? But his immigration polices became radioactively enlarged due to his comments about undocumented Mexican immigrants being rapists and murders.
Expect more of this before Trump's trip to the border is over.
Here's their statement, in full:
National Border Patrol Council Local 2455 statement

After careful consideration of all the factors involved in this event and communicating with members of the National Border Patrol Council (NBPC) at the National level, it has been decided by Local 2455 to pull out of all events involving Donald Trump.

As a local of the NBPC, our purpose is to support and protect the men and women who protect our borders. Make no mistake, our border with Mexico is not secure and there's no doubt that we need to have an honest discussion about that with the American people. Local 2455 will continue to represent our members to the best of our abilities and will make sure that our members concerns are heard by the American people.

As Local 2455, our intentions to meet with Mr. Trump was to provide a "Boots on the Ground" perspective to not only Mr. Trump, but to the media that would be in attendance at this event.

Just to be clear, an endorsement was never discussed for any presidential candidate. Local 2455 does not endorse candidates for any political office.

For these reasons,Local 2455 will not participate in any events with Mr. Trump.

Hector Garza President Local 2455
[Image via screengrab]
——
>> Follow Evan McMurry (@evanmcmurry) on Twitter
Have a tip we should know? tips@mediaite.com