Jaden Smith, the 15-year-old son of Will Smith, was lambasted from all sides this past week when he tweeted to his 4.5 million followers, "If Everybody In The World Dropped Out Of School We Would Have A Much More Intelligent Society." As a budding superstar actor himself, Jaden is major role model for kids all over the world and his suggestion has the potential for disastrous consequences. But he may have just found himself an unlikely defender: Rush Limbaugh.

A caller brought the tweet to Limbaugh's attention Wednesday, saying that while "liberals despise the thought people of dropping out of school," it could be "the best decision anyone could make, because you're forced into hard work."
Limbaugh pushed back a bit on this notion, saying, "it depends on why you drop out of school." After a brief detour to praise how hard Will Smith must work, Limbaugh returned to the question at hand. While he said he understands why higher education is so important for many Americans, he doesn't think it's for everybody. At the same time, Limbaugh said that "even if what you're being taught is B.S." everyone needs some form of basic education.
But while he thought Jaden Smith may be taking his ideas a bit too far, other comments the actor made about school being a "tool to brainwash the youth" did appear to ring true for Limbaugh.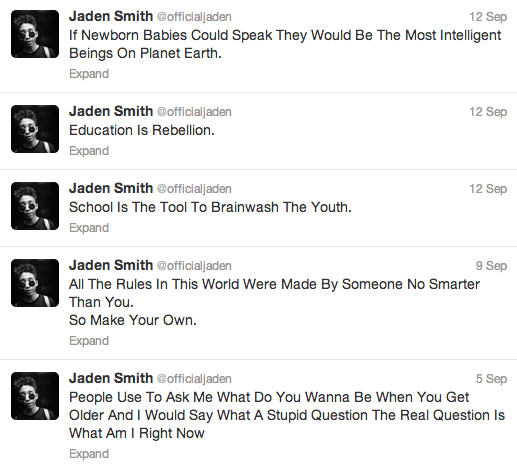 "They have been polluted, they have been corrupted, they have been lied to," Limbaugh said of America's youth. Lest his listeners get the wrong idea, he clarified, "I'm not thinking we have a conservative kid here by any stretch." But like Jaden Smith, he could agree that, for him, school was an "obstacle" to doing what he really wanted to do.
Listen to audio below, via Rush Limbaugh:
[photo via screengrab, Twitter]
— —
>> Follow Matt Wilstein (@TheMattWilstein) on Twitter
Have a tip we should know? tips@mediaite.com