Local Orlando News Producer Says Gunman Called Studio During Attack: 'I Did It For ISIS'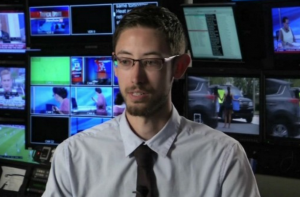 As details continue to emerge about the horrifying hours inside the Pulse nightclub in Orlando Sunday morning, an eerie piece to the puzzle has surfaced.
Matthew Gentili, a news producer at News 13 in Orlando, claims that around 2:45 a.m. on Sunday he received a phone call at the station while working the overnight shift. Already swamped with reports and breaking news of the gunfire that was erupting just down the street at the club, Gentili says that one particular phone call came in that he knew was different from the multitude of others.
"I will never forget the words he said to me," Gentili said, before recounting that the voice on the other end of the line identified himself as the gunman.
Gentili said, "It was at 2:45 a.m. when I had just received the phone call of someone claiming to be the Orlando shooter. I answered the phone as I always do: 'News 13, this is Matt.' And on the other end, I heard, 'Do you know about the shooting?'"
After confirming that he was aware of the shooting, the voice said calmly, "I'm the shooter. It's me. I am the shooter."
Gentili continued, describing the scene as it unfolded inside his newsroom:
"He did it for ISIS, and he started speaking Arabic. At the time, I didn't know what he was saying. He was speaking so fast. But it was… he was speaking fluently. Whatever language he was speaking, he knew it. And he was speaking it very quickly. And that is when I said to him, 'Sir. Please. Speak in English, please.'"
At that point, the caller identified his allegiance: "I did it for ISIS. I did it for the Islamic State."
The news producer, who was promptly questioned by the FBI at the end of his work shift, continued, "It was silent for a while. I asked him: 'Is there anything else you want to say?' He said no and hung up the phone."
According to News 13, a managing editor on staff researched the phone number and confirmed that it was a match to Omar Mateen, the 29-year-old terror suspect who took the lives of 49 people that morning and injured dozens more. Gentili said that is was a phone call he won't ever forget.
"I'm definitely changed," Gentili said. "When you get a phone call like that, I'm never going to be able to answer the phone again without thinking this is the most serious call I'll ever get in my life."
—
[image via News 13]
[h/t News 13]
Have a tip we should know? tips@mediaite.com