Lochte Cohort Feigen Apologizes for Rio Escapade, Claims Authorities Tried to Extort $50K From Him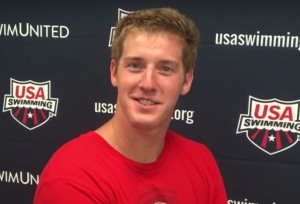 Five days after returning to the US, Ryan Lochte's swim teammate Jimmy Feigen has issued an apology for his exploits in Rio.
In a statement issued through an Austin-based law firm, Feigen said he didn't intend to take away attention from those competing in the Games.
"I would like to apologize for the serious distractions from the Olympics, Rio de Janeiro, and Team USA," Feigen said. "It was never my intent to draw attention away from the tradition of athletic competition and the symbolic cooperation of countries participating in the Olympic games."
Feigen added that Brazilian authorities tried to extort a larger fine from him than the one he eventually paid.
I was eventually given two options. Option one was to remain in Brazil while the police continued the investigation. This process was estimated to take at least a month and I would be required to remain in Brazil. Option two was pay a fine of R$100,000.00 ($31,250.00 USD) for the return of my passport and perform fifteen days of community service. I called my American attorneys to discuss what to do. We decided that this amount was unreasonable and due to safety concerns, this offer was also rejected. The prosecutor's response was to increase the fine to R$150,000.00 ($46,875.00 USD).

Finally, all parties agreed to a R$35,000.00 ($10,800.00 USD) fine. This fine was to be paid within three days. If it was not paid, the fine would be increased back to R$150,000.00.
In the statement, Feigen, like teammate Gunnar Bentz before him, completely threw Ryan Lochte under the bus.
Later (on the day of the robbery), a Rio police detective came to the USA House to take a statement. Since I was the only person available, I was told by a USOC official to provide a statement.

In this statement, I omitted the facts that we urinated behind the building and that Ryan Lochte pulled a poster off the wall.
You can read Feigen's full statement here.
[image via screengrab]
–
Follow Joe DePaolo (@joe_depaolo) on Twitter
Have a tip we should know? tips@mediaite.com
Joe DePaolo - Senior Editor