Los Angeles Residents Want To Know Who To Blame After Obama-Induced Traffic Jam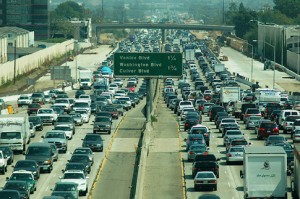 Living in New York, it is sometimes easy to forget that people elsewhere in the country have to drive themselves places instead of just whistling for a cab or dipping into the subway. In Los Angeles, however, driving is an integral part of the Angeleno identity, a fact that was reaffirmed this week when President Obama caused a massive traffic jam and enraged some L.A. commuters.
On Monday, The Wrap's Hunter Walker reported that an Obama fundraiser at "West Wing" producer John Wells' house closed down major east-west through streets like Olympic, Pico, and Santa Monica boulevards, causing a gridlock throughout the city. At the time the article was written, Walker had been stuck for three hours in "the worst traffic jam" he'd ever seen. And while Walker will never get those three precious hours back, he would at least like some answers from the Obama administration. (The Los Angeles Times has more on the traffic jam.)
Easier said than done, it seems. The Wrap contacted Wells for a statement, who told them to speak with the Democratic Congressional Campaign Committee, which directed them to Deputy White House Press Secretary Josh Earnest, who said they should speak with the Secret Service and the LAPD. Neither party had much in the way of an apology to offer, especially not in connection to Obama himself, and Walker was left with this explanation from Secret Service spokesperson Ed Donovan:
"We work very closely with local law enforcement on Presidential motorcade routes and we always try to have the least impact possible. We're not going to discuss any specifics."
And that, apparently, is that. For those residents of L.A. who were perturbed by the traffic jam and are not satisfied with this response, I'd suggest selling your car and moving to New York, where the biggest pedestrian traffic nuisance would be waiting to cross Fifth Avenue during the annual Gay Pride Parade in June when you're already 15 minutes late for brunch – I know from experience.
Have a tip we should know? tips@mediaite.com