Louisiana Paper to Obama: Call Off Your Vacation and Visit Our Flood-Ravaged State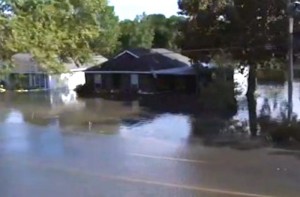 One of Louisiana's largest newspapers is calling on President Obama to cut his Martha's Vineyard vacation short and head down south to witness the state's devastation after several days of massive floods.
Obama has been getting some R&R in Massachusetts for the last week and a half, and his vacation schedule says that he'll return for work next week on Monday. On Wednesday night, The Advocate in Baton Rouge published an editorial noting how bad the damage to Louisiana has been, and that President Obama must not take the same course of action George W. Bush took after Hurricane Katrina.
"We've seen this story before in Louisiana, and we don't deserve a sequel," the piece reads. "A disaster this big begs for the personal presence of the President at ground zero."
The piece goes on to lambast Obama for spending time at a "playground for the posh and well-connected" while the torrential rain brought "death, destruction and misery" across multiple townships. Now that the water is starting to recede, the newspaper argues that if Obama can interrupt his vacation for Hillary Clinton, he can pack his bags and head down to address the crisis:
"Sometimes, presidential visits can get in the way of emergency response, doing more harm than good. But we don't see that as a factor now that flood waters are subsiding, even if at an agonizing pace. It's past time for the president to pay a personal visit, showing his solidarity with suffering Americans."
Obama has already declared the floods a disaster for the state, and CNN reports that Homeland Security Secretary Jeh Johnson plans to visit Louisiana to assess the current response to the devastation. USA Today noted that neither Clinton nor Donald Trump have made an explicit reference to the disaster yet.
#LouisianaFlood: Crews doing welfare checks by boat. @RosaFlores reports from Ascension Parish. https://t.co/ygrtytkb8p

— Michaela Pereira (@Michaela) August 17, 2016
Vacation-shaming has a long tradition that had its modern beginning with President Ronald Reagan. In 2014, President Obama was criticized for staying on vacation after a Russian missile downed a commercial airliner, and was also criticized for interrupting his vacation to take meetings at the White House on the issue of immigration. The flooding in Louisiana has, thus far, taken 13 lives and has reportedly affected over 40,000 homes.
Watch a report on the floods in the video above, via HLN.
[Image via screengrab]
— —
>> Follow Ken Meyer (@KenMeyer91) on Twitter
Have a tip we should know? tips@mediaite.com