Iron Chef Mario Batali Compares Bankers To Adolf Hitler; Bankers Promptly Boycott His Restaurants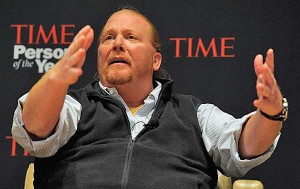 What happens when you get Brian Williams, Mario Batali, Anita Hill, Jesse Eisenberg, Grover Norquist, and Seth Meyers together in a room to discuss Time's Person of The Year? Hitler references, of course!
Jeff Bercovici of Forbes broke the story of Batali's comments on Tuesday, setting off a firestorm of anger among bankers — a group that comprises a sizable chunk of Batali's business. Many decided to let their feet do the talking, calling for boycotts and canceling reservations to his restaurants.
Batali's comments were actually somewhat insightful and inane up until he brought the Fuhrer into the conversation. When asked about who he would choose as Person of The Year, he rambled:
I would have to say that who has had the largest effect on the whole planet without us really paying attention across the board and everywhere is the entire banking industry and their disregard for the people that they're supposed to be working for…
So far, a pretty milquetoast response. But Batali then took an unexpected turn:
So the ways the bankers have kind of toppled the way money is distributed and taken most of it into their hands is as good as Stalin or Hitler and the evil guys…They're not heroes, but they are people that had a really huge effect on the way the world is operating.
It's amazing how many people still don't realize that comparing things to Hitler is never a good idea. Predictably, bankers and traders were not happy with Batali's remarks. According to Eater's Amanda Kludt, once traders found out about his comments, they began forwarding this message to everyone they knew, worldwide:
Celebrity Chef Mario Batali Says Bankers As Bad As Hitler, Stalin … a list of his restaurants *B&B Ristorante *Osteria Mozza *Babbo *OTTO *Bar Jamon *Pizzeria Mozza *Carnevino Italian Steakhouse *Tarry Lodge *Casa Mono *Tarry Market *Del Posto *Mozza2Go *Esca *Manzo *Lupa Cancel all reservations…..pass the word.
An anonymous bank executive told the New York Times that, "The irony is that he has made millions of dollars building a restaurant empire off the backs of Wall Street wealth." The executive said he would not go back to any restaurant that Mr. Batali was involved with.
Batali issued an apology yesterday through Twitter. "To remove any ambiguity about my appearance at yesterday's Time Person of the Year panel, I want to apologize for my remarks," he said. "It was never my intention to equate our banking industry with Hitler and Stalin, two of the most evil, brutal dictators in modern history."
To Batali's credit, Bercovici chatted with him briefly after the panel and Batali seemed to realize that maybe bringing Hitler in as an example wasn't the best idea, stressing that he used Hitler (and Stalin) as metaphors and examples of autocrats.
There is also a fun epilogue to this story. Batali initially accused Bercovici of "deliberately misquoting" him for a "pr land grab." Bercovici then pointed out that there were several recordings of the event, including one on Time's website. Bercovici is still waiting for an apology. In the meantime, however, he pointed out an interesting twist — Batali, for his anti-banker sentiment, isn't exactly embracing the Occupy Wall Street movement, either:
You might think a person who equates corporate malfeasance with the greatest mass acts of mass murder in history would be a big supporter of the Occupy Wall Street protest. In fact, Batali's down on OWS, too. "It's kind of a part-time job," he said. "Those guys in Zucotti Park, they're kind of just sitting around. It's a very 2011 rebellion."
Watch the video of the panel discussion below, courtesy of Time:
Have a tip we should know? tips@mediaite.com