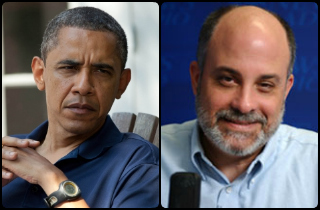 "What do they say about Disneyland, Disneyworld, the happiest place on Earth?" conservative radio host Mark Levin said on his show Friday. "I think they say about Martha's Vineyard — for you racialists and race-baiters out there — I think they say it's the whitest place on Earth."
Levin spent some time criticizing President Barack Obama for taking his family to a vacation on Martha's Vineyard while "there's genocide going on" in Iraq. "Little kids are now being hung on crosses, crucifixes, they're being crucified," Levin said. "And decapitated, where their heads are being put on posts in parks in Mosul."
He lists off some more horrors being committed by the "Islamo-Nazis" before asking, "Why would we expect the president to cancel his vacation to Martha's Vineyard?" While he found it "amazing" that Obama is finally "showing some muscle" in Iraq with military airstrikes on ISIS artillery, he could not get over the fact that he was, in the same week, traveling to "the whitest place on Earth."
"And we know how you hate whites," Levin continued, saying Obama would be better off vacationing in the U.S. Virgin Islands. "He talks race, he uses race, he pushes race. Vacation? Martha's Vineyard."
While Martha's Vineyard is no doubt a ritzy island with more than its fair share of white people, Levin is clearly unaware of its rich history as a summer destination for wealthy black families. This is particularly true of Oak Bluffs, where African-American families began summering as early as the 1890s. The town's main beach became pejoratively known as "The Inkwell," a name that was later embraced by the people who frequented it.
During President Obama's first year on office, MSNBC's Touré wrote an article for New York Magazine titled "Black and White on Martha's Vineyard," which speculated about how the Obamas' vacation experience on the island, known for its "self-imposed racial segregation," might differ from that of the Clintons.
While the Obamas do stay in one of the more traditionally white sections of the island in Chilmark (primarily for logistical reasons), as Touré predicted, they do make an effort to spend time in Oak Bluffs.
It would be one thing for Levin to describe Martha's Vineyard as one of the most expensive places to vacation on the Eastern Seaboard. But to call it "the whitest place on Earth" just isn't accurate.
Listen to audio below, via The Mark Levin Show:
[Photos via The White House/Mark Levin Show]
— —
>> Follow Matt Wilstein (@TheMattWilstein) on Twitter
Have a tip we should know? tips@mediaite.com