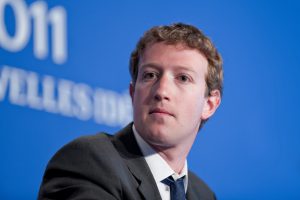 Facebook founder Mark Zuckerberg pushed back against accusations that his website allowed fake news stories to spread to such a degree that it helped elevate Trump to the presidency, calling the idea "pretty crazy."
"There is a profound lack of empathy in asserting that the only reason someone could have voted the way they did is because they saw fake news," he said Thursday at a conference in San Francisco.
Critics have alleged that the site, which is intended to show users content they will respond to, allowed extremely partisan and factually inaccurate memes and stories to circulate.
Joshua Benton wrote on Wednesday:
Facebook has become a sewer of misinformation. Some of it is driven by ideology, but a lot is driven purely by the economic incentive structure Facebook has created: The fake stuff, when it connects with a Facebook user's preconceived notions or sense of identity, spreads like wildfire. (And it's a lot cheaper to make than real news.)
Benton noted that among the fake headlines he saw on Facebook in the days leading up to the election were stories about Hillary Clinton igniting a civil war, Pope Francis endorsing Trump, and Barack Obama admitting he was born in Kenya.
Buzzfeed has done a thorough analysis of how both left- and right-wing misinformation propagates in Facebook, and the Wall Street Journal's Blue Feed/Red Feed tool allows readers to see how markedly different the news feeds are populated for liberal and conservative users.
"Information you are getting through the social system is going to be inherently more diverse than you would have gotten through news stations," Zuckerberg said.
[image: Frederic Legrand – COMEO / Shutterstock.com]
Have a tip we should know? tips@mediaite.com