Michael Arrington Presses Nose Against Sun Valley's Window, Wishes He Too Had a Puppy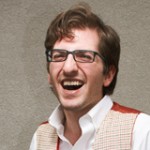 Media mogulet (mogulito?) Michael Arrington has chimed in on Sun Valley's ongoing, Illuminati-esque gathering of media panjandrums — and the result is more or less a geyser of envy and vituperation. Pity the poor TechCrunch founder peering over the windowsill, one thumb hooked thorough the shoulder of his overalls, wanting nothing more than to go inside and play with the chosen ones.
Arrington's first question: Does Barry Diller (#11 in our moguls ranking to Arrington's #28) know anything about anything, actually? The answer: not really. Because the IAC Chairman has the walnut-sized brain of a sauropod!
As reported by the Wall Street Journal, Wednesday's Sun Valley panel with Diller and Liberty Media chairman John Malone eventually turned to discussion of Twitter and online monetization:
Despite the hype about Twitter, Diller was pessimistic about Twitter's prospects for making money, audience members said. Malone said he didn't think that an advertising model made sense on Twitter, but there was some hope for a subscription model. "Sooner or later people will be willing to pay for these services," he said.
Sensible, right? We at Mediaite just ran a highly sophisticated, Nate Silver-style linear regression of Twitter's historical revenues (hint: the year-over-year change from zero to zero is zero!). Without a serious consideration of possible business models, Ev Williams' baby will wind up with operating income somewhere between the South Sea Company and a lemonade stand.
Arrington, however, responded to the WSJ article with a daddy-issue-fuelled ad hominem (Get it? "Ad" hominem!) attack on Diller and Malone, titled "I am Stunningly Uninterested in Diller and Malone's Opinion of Twitter":

In fact, when I read the WSJ article I was reminded of my dad complaining about the music I liked in high school. The music he listened to growing up (probably played on a banjo or something) was infinitely more interesting than all this new stuff. Ah, the old days.
Well, it's good to know that TechCrunch's resident Internet Sahib gyrates exclusively to the lastest in neo-Italo disco and post-rock. Except that Arrington's favorite band, according to his Facebook page, is…U2? Welcome to 2009, Michael. Would you like a Calexico vinyl? Perhaps a Junior Boys cassingle?
The non-Sun-Valley-attending editor goes on:
Diller and Malone both preside over huge companies with a variety of assets. Some of those assets, like Ask.com and Expedia, would even be considered new media or Internet startups. But just like the truly old media guys, Diller and Malone are already dinosaurs in a fast changing world. They have no clue what Twitter is even about. So why in the world would we care what they think about its business model?
Arrington seems to have missed the fact that IAC, far from crumbling before the latest, hippest phalanx of flashy (Flashy?) web properties with social networking functions and integrated iPhone applications, is holding ground even in our current, new media-obliterating recession. Why? Because not everyone online is a TechCrunch-reading, Chrome-installing, Kindle-wielding devotee of technology for technology's sake — like, say, Michael Arrington.
Let's consider the evidence: AOL's Mediaglow is conquering the blogopshere by driving hordes of people to its web properties from AOL.com. Forbes.com generates plenty of traffic by writing "America's Top 25 Cities for Stucco Facades!" articles, then securing pickup on Yahoo News. As companies like IAC and Liberty Media have discovered, a strategy of catering to the unwashed masses can be – pageview for pageview – just as profitable as squabbling over the self-anointed Internet vanguard exemplified by TechCrunch.
Arrington's face would likely contort in horror if he saw someone opening a browser with Ask.com as its homepage or spending time customizing their Zwinky; yet IAC's painfully antiquated Web 1.0 properties have a business model that works – and that doesn't rely on the Twitter-worshiping web elite.
In conclusion, Michael Arrington should be forced to hold an Expedia server stack on his shoulders until Barry Diller asks him to fetch the Golden Apples of the Twitterides.
Andrew Cedotal is a Contributing Editor at Mediaite. He is also Director of New Media Strategy at Abrams Research. He has had no professional dealings with TechCrunch, Michael Arrington, Barry Diller or neo-Italo gyrations.
Follow Andrew Cedotal on Twitter
Photo by Nikola Tamindzic, via.
Have a tip we should know? tips@mediaite.com