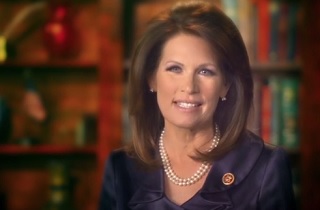 The beautiful dream is over. In a YouTube video posted Tuesday night, Congresswoman Michele Bachmann (R-MN) announced (straight into the camera) that she will not seek reelection to a fifth term in the U.S. House of Representatives in 2014. Over the course of eight excruciating minutes and twenty bonus seconds, Bachmann explained that she wasn't even all that keen to run in 2012, but didn't think there was enough time for another Republican to have organized a successful run. She also assured supporters, and the media, that her decision "was not impacted in any way by the recent inquiries into the activities of my former presidential campaign, or my former presidential staff," nor was it "influenced by any concerns about my being re-elected to Congress."
"I have every confidence that if I ran, I would again defeat the individual who I defeated last year," Bachmann added, referring to Jim Graves, the Democratic opponent whom she narrowly defeated in 2012, who recently announced his 2014 candidacy.
The bulk of the video is devoted to a long list of accomplishments, scored to a long-lost Enya backing track, and which, most weirdly, included "being one of only three Americans" to attend the funeral of deceased former British Prime Minister Margaret Thatcher.
Bachmann also gave a shout-out to her pals in the lamestream media, predicting that "I fully anticipate the mainstream liberal media to put a detrimental spin on my decision not to seek a fifth term," adding that "Since I was first elected to Congress, many years ago, they always seem to attempt to find a dishonest way to disparage me. But I take being the focus of their attention and disparagement as a true compliment of my public service effectiveness."
Take heart, though, Jon Stewarts of the world. Rep. Bachmann left the door open for a possible presidential run in 2016. "There is no future option or opportunity, be it directly in the political area or otherwise, that I won't be giving serious consideration if it can help save and protect our great nation for future generations," Bachmann said.
At the risk of disparagement, Bachmann's decision does allow her to avoid the risk of losing a tough 2014 congressional race, which could seriously hamper a potential run at the White House in 2016.
Here's Rep. Bachmann's video announcement, via Youtube:
Follow Tommy Christopher (@TommyXtopher) on Twitter.
Have a tip we should know? [email protected]