Michelle Obama Joins Forces With Kate Middleton on Media Takeover for Mental Health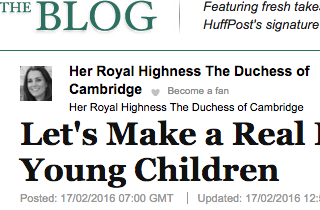 Today is a big day for Royals watchers: Duchess Catherine (aka Kate Middleton) took over Huffington Post U.K. as Guest Editor to raise awareness of mental health issues. Her cross-pond counterpart, First Lady Michelle Obama, backed up the initiative with a post of her on on the American HuffPo.
Middleton's husband is Prince William, the son of the much-beloved late Diana, Princess of Wales, a woman for whom mental health issues were a well-documented struggle, so her interest in the topic makes sense. Middleton's stance was laid out early on in the day when she published her own blog post on overcoming taboos around mental health to get children the care they need.
The mental health of our children must be seen as every bit as important as their physical health. For too long we have been embarrassed to admit when our children need emotional or psychiatric help, worried that the stigma associated with these problems would be detrimental to their futures … Like most parents today, William and I would not hesitate to seek help for our children if they needed it. We hope to encourage George and Charlotte to speak about their feelings, and to give them the tools and sensitivity to be supportive peers to their friends as they get older. We know there is no shame in a young child struggling with their emotions or suffering from a mental illness.
Of course, as the children of the future King and Queen of England, Prince George and Princess Charlotte don't face the detriments to their futures referenced by Middleton. That being said, everyday children don't face the trauma of constant paparazzi and security surveillance, either. Middleton recognizes the extraordinary circumstances her family has found themselves in, assuring readers that HuffPo U.K.'s content for the day will include resources for families who have no idea where to start when it comes to their kids' mental health.
A big thank you @FLOTUS for blogging #YoungMindsMatter-an honour to have your involvement in this important project https://t.co/VTHu5TEaGO

— Kensington Palace (@KensingtonRoyal) February 17, 2016
Obama's blog post focused on mental health in general, not necessarily only that of children. She, like Middleton, noted that "too often, the stigma around mental health prevents people who need help from seeking it." She then showcased a list of five signs that someone needs mental healthcare compiled by her Campaign to Change Direction.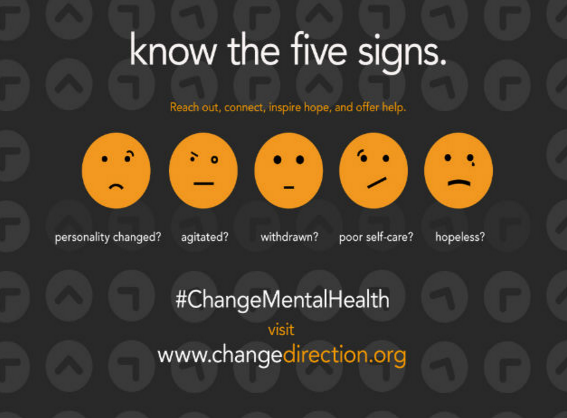 Though more and more public figures are speaking out about their struggles, there is a long way to go. Luckily, with the power of Middleton and Obama behind it, #YoungMindsMatter has been trending on Twitter in the U.K. all day, so using HuffPo to reach a young audience seems to have worked.
[image via screengrab]
For more from Lindsey, follow her on Twitter.
Have a tip we should know? tips@mediaite.com